Lead Demonstrators for SWAT 2023
The Southwest Association of Turners strives to provide the best in demonstrations and workshops for our annual symposium attendees. 
We offer demonstrations by internationally renowned artists, regional woodturning experts, and hands on experiences by our supporting chapters and vendors. 
You can learn how to do just about anything your heart desires (with a piece of wood) after spending the day in the company of the demonstrators at SWAT.  Take a look at the information below for a complete listing of the experts providing demonstrations at the 2023 SWAT symposium.
Here are the Lead Demonstrators for SWAT 2023.  
---
 Emiliano Achaval
Cindy Drozda

Tom Lohman

John Lucas

 Walt Wager

Colwin Way
Derek Weidman

---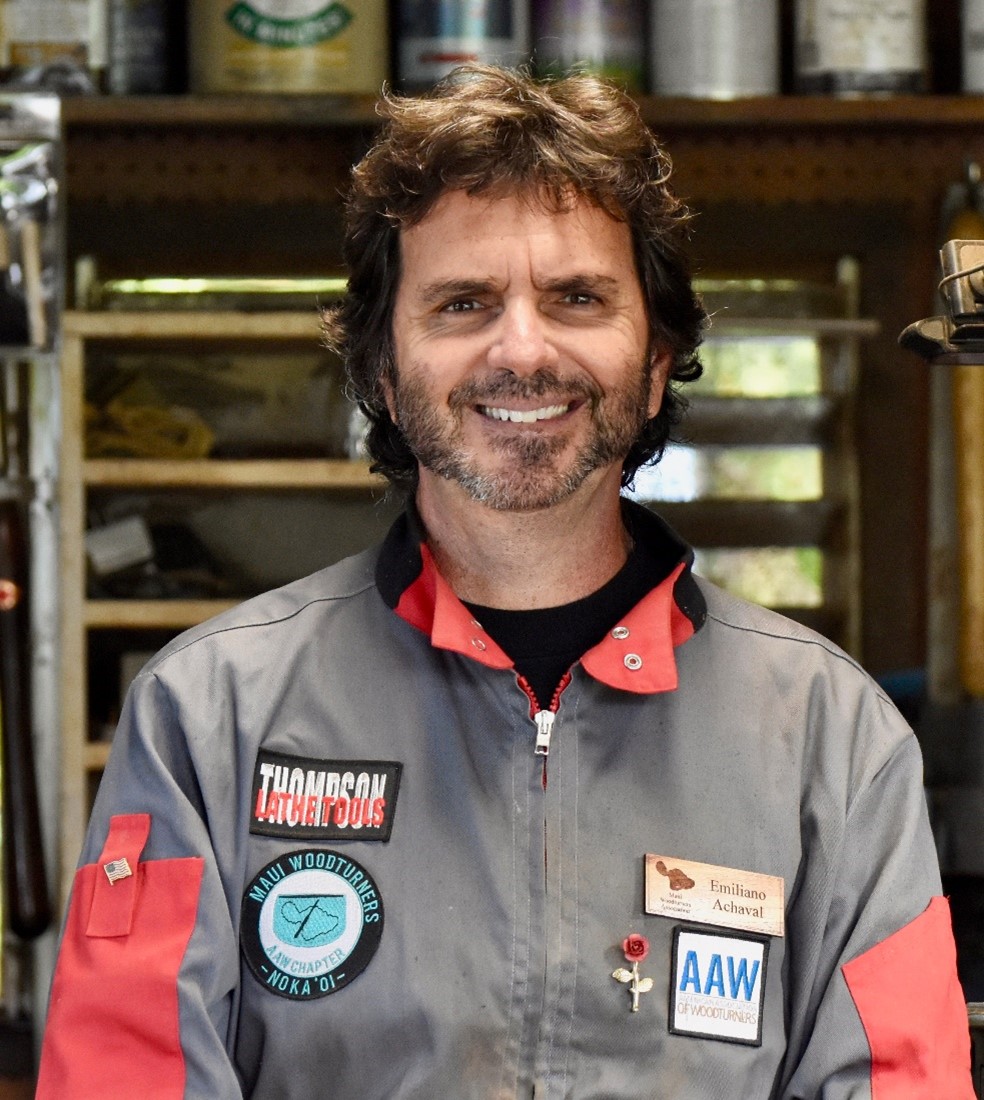 Emiliano Achaval

He is a woodturner based on the Island of Maui. He is known for his passion for the Hawaiian calabash, a 500-plus year tradition, and his boxes with hand-chased threads.
The current president of the Maui Woodturners Assn and a writer for Woodturning magazine UK.
One of the pioneers of interactive remote demonstrations.
He emphasizes form and design: "If the Hawaiians made timeless works of art with stone adzes, we should be able to achieve perfection with a lathe and modern steels."
He knows he is lucky to live in a State with many beautiful native timbers, like Koa, Milo, and Kou.
---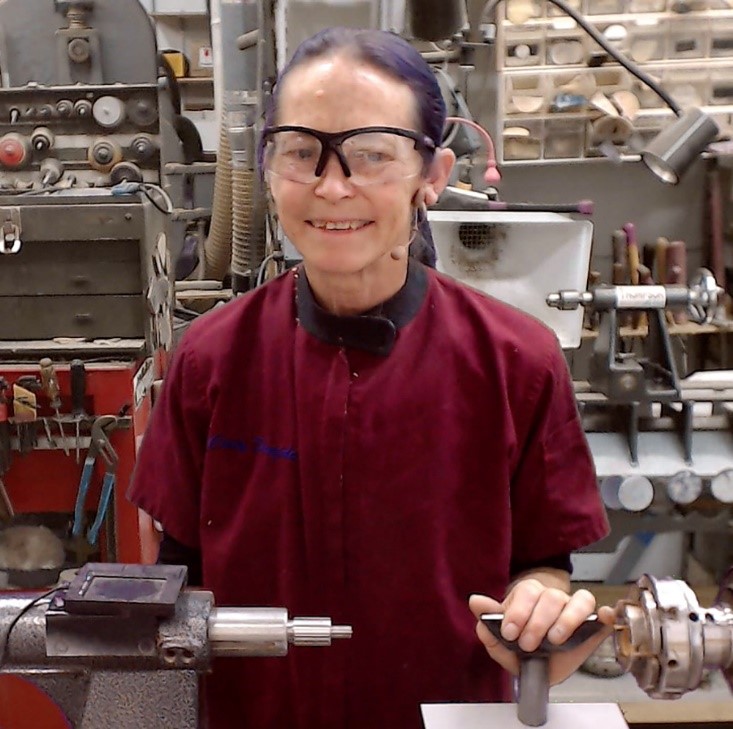 Cindy Drozda

Cindy Drozda, Erie Colorado, has worked with wood professionally since her first "real" job at age 19, where she taught herself on the job. The need to make a pair of chairs brought her to woodturning, but it was pictures of bowls, vessels, and boxes in the back of Dale Nish's book that really got her hooked. Before settling on woodturning as a career Cindy worked as a cabinet maker, rebuilt airplanes, machined metal, and made hang gliding equipment.  
Today, her pieces are exhibited at the finest art shows. Her elegant lidded vessels and boxes with delicate finials bring a contemporary flair to classic forms. A jewel hidden under the lid symbolizes the treasure that life reveals when we make the effort to look deeper. Her trademarks are precise techniques, fine details, and pleasing forms.  
Cindy shares her knowledge and passion through her online Interactive Remote Demonstrations, as well as through her instructional videos. You can also see her online at clubs, free live streams, YouTube, and social media events. She is a member of the American Association of Woodturners, two AAW chapters, and Lucid Woodturners. Her feeling is that the sharing of ideas in the woodturning community is vital to the health and growth of individuals, the community, and Wood Art in today's world. She has written several articles for the AAW Journal, on Finial Design, Banksia Pods, and a recent one on coloring burls. Cindy will coach you to new levels of excellence in your woodturning! 
As a way to help woodturners follow her teaching, Cindy developed a line of tools and turning supplies that she sells on her website. Her website is a tremendous resource of notes and information from her classes and demonstrations.
In 1988, Cindy participated in the first successful west-to–east crossing of the USA by non-powered hang glider, and in 1998 she flew an experimental airplane to Oshkosh for the world's largest airshow. Woodturning is her latest exciting adventure!
---
Tom Lohman
Tom began many years ago as a furniture maker then moved to laminated wood items.
In the past decade he has focused on segmented woodturning creating wooden bowls and vases from a variety of exotic woods.
Tom draws inspiration for his projects from Hopi and Navajo art and African baskets.
Now retired from a career as an engineer, he brings this expertise to the world of segmented woodturning.
In addition to creating wood turned gifts for family and friends, Tom enjoys donating items to favorite charities for raffles and auctions.
While Tom's passion is segmented woodturning, he thoroughly enjoys teaching what he has learned with others. He has demonstrated at multiple segmented symposiums, as well as the 2018 AAW Symposium in Portland, Oregon. His work has been featured by the AAW Segmented Woodturning Chapter of which he is a member.
Tom is active in his local woodturning club and has demonstrated on both Segmented Woodturning and the "Bowl from a Board" technique at local Minnesota and Wisconsin woodturning clubs
---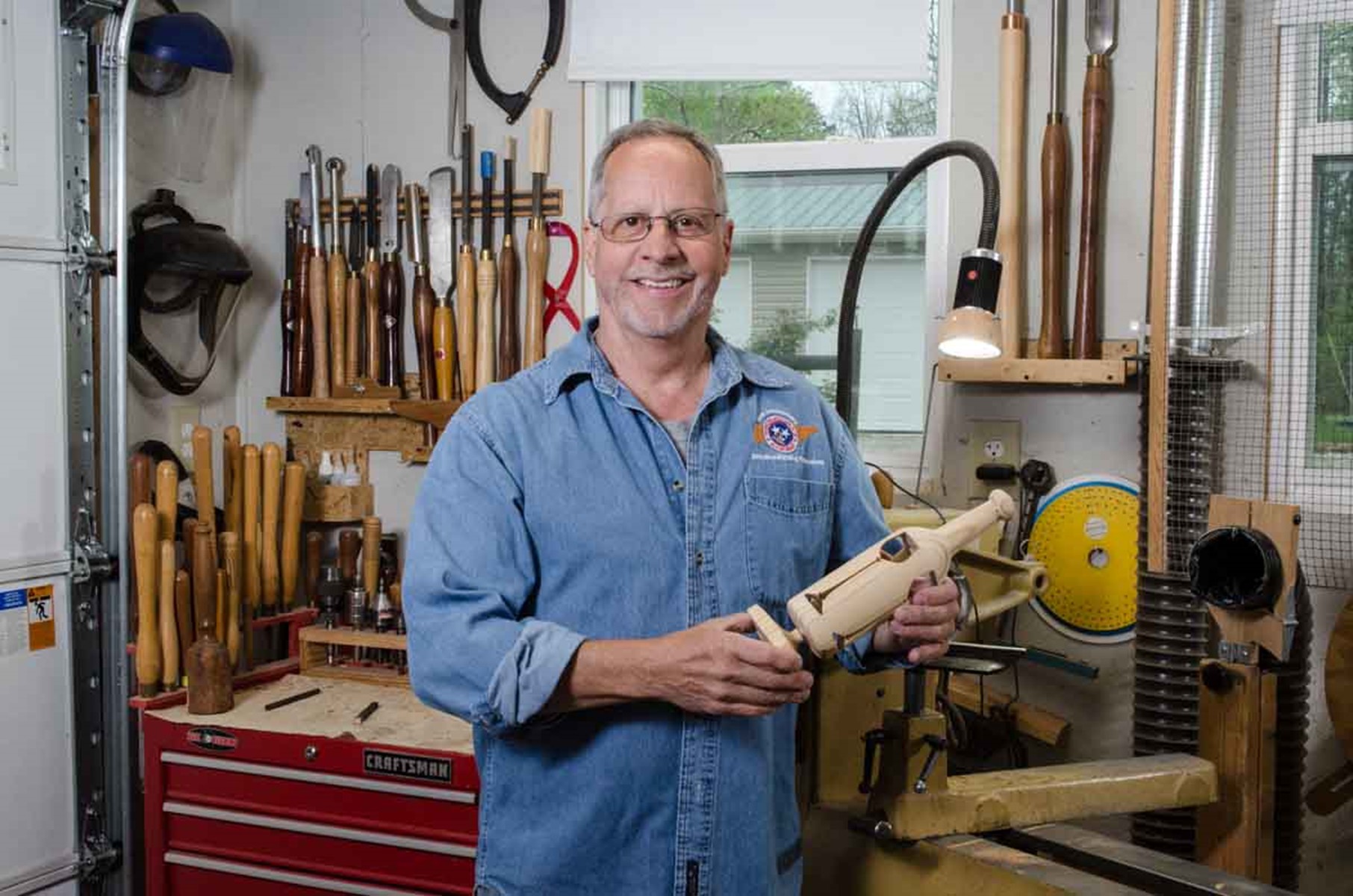 John Lucas
I have been working in wood for 50 years.  I have been turning for almost that long. 
I retired as a photographer for Tenn. Tech University where I worked for 27 years. 
I have had work in the Best of Tennessee show, and many AAW symposium shows.
I have been writing for Woodturning magazines for about 20 years and have had many articles published. 
I'm known for my hand mirrors but I make all sorts of work.
---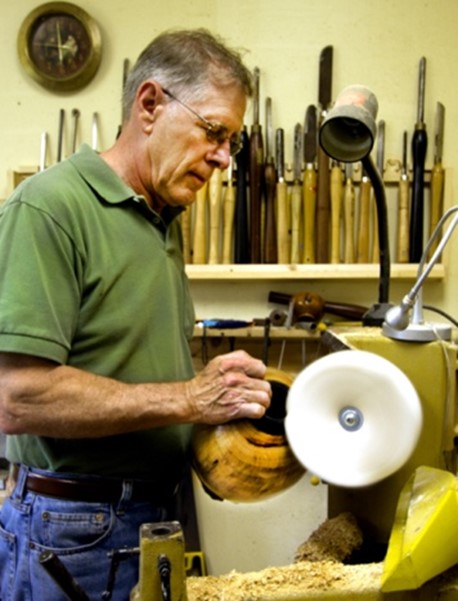 Walt Wager
My undergraduate degree is in Industrial Arts from State University of New York in Oswego. After teaching high school shop I attended Indiana University and earned a doctoral degree in Instructional Systems Design. I started woodturning upon my retirement from Florida State University in 2002. Since then I have taught and demonstrated woodturning techniques regionally, nationally, and internationally.
What I love about woodturning is that it is a creative, problem-solving process. Every piece of wood is different and requires variety of techniques to form and finish. I mostly use regional woods from the southern U.S., including cherry, camphor, magnolia, maple, palm, and sycamore. Photos and videos of my work may be viewed on my website  http://waltwager.com . I have published over a dozen articles in the American
Association of Woodturners Journals, American Woodturner, and  Fundamentals, and the British Magazine, Woodturning.
I make a variety of things from ornamental to functional, from toys to urns. In the SWAT symposium I will demonstrate how to make two different Christmas ornaments
---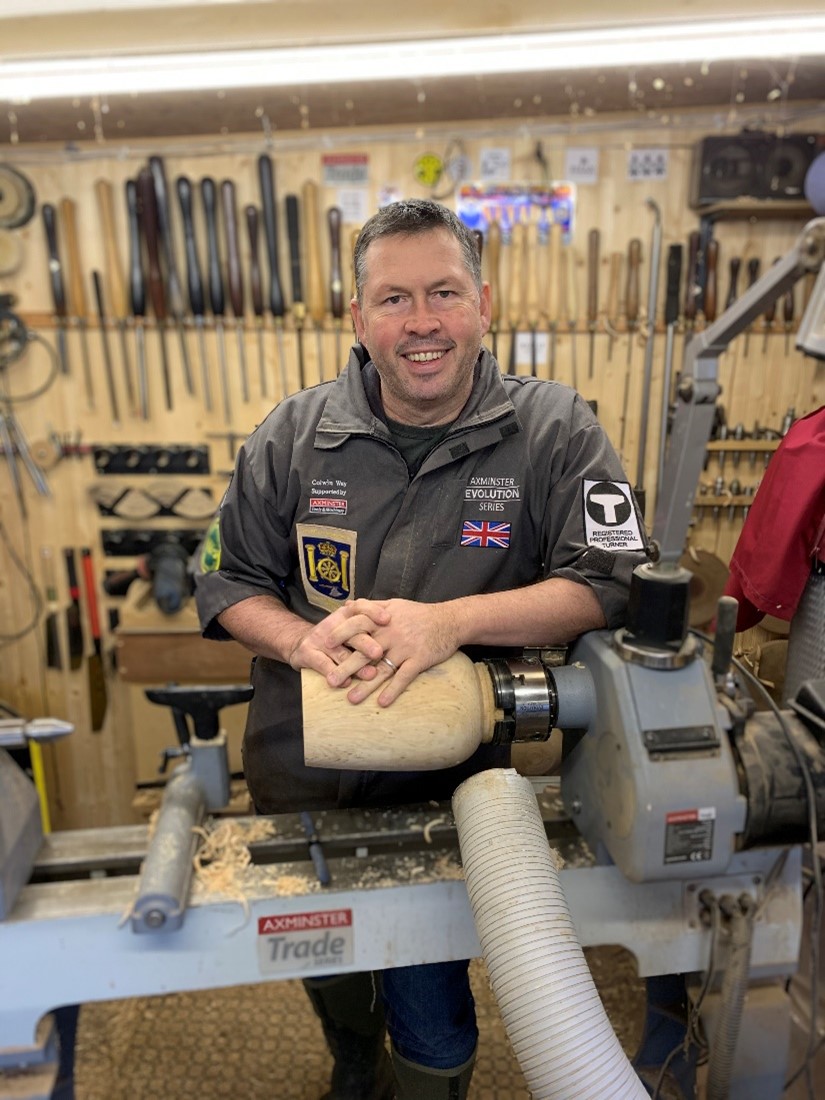 Colwin Way
My woodturning journey started in 1983 where a work experience choice at school created an interest in the craft that was so infectious it became an obsession. The choice was a lazy one really because the main reason for choosing to attend the local production woodturning workshop was because it was at the end of my road. However little did I know how much this would change and ultimately shape my life!
The woodturning workshop was owned by Geoffrey Manley and the work experience placement was a three week in at the deep end type of training. It was a busy workshop and Geoff had no time to teach, instead showed me once and told me to get on with it. I loved my three weeks with Geoff so much that I asked my parents if I could buy a lathe and only being thirteen was hoping for some financial help to do so. Geoff also gave me a lot of help, coming to choose the lathe with me  to make sure everything was just so and with a beaming smile came back with a Myford ML8. This is where the true obsession became an addiction and I spent every free hour I had turning, much to the annoyance of my neighbours.
I must of done something right though as shortly after leaving school some two years later Geoff asked me if I would like to take on an apprenticeship with him!
I served 5 years with Geoffrey learning a huge variety of turning techniques from spindle to bowl, hollow forms to miniature but also in many materials including wood, bone, ivory, jade, jet, antler, stone, horn, amber, plastic, clay and resin.
After leaving Geoffrey I found myself working as a full-time self employed woodturner, until I was given an opportunity to rent a workshop on a local farm. This was a great opportunity for me as I had a massive workshop and had the chance to learn another range of skills. The deal was I worked for my rent, giving half my day to the farm I was able to learn a range of forestry management techniques from tree planting, thinning,  minimal impact extraction using heavy horses to many types of chainsaw uses in felling, crosscut and pruning. The other great thing was I was able to take the best bits of timber for myself.
This was a Wonderfull life being out in the country side, managing the land and the creatures who inhabit it, with a very old Massy Ferguson tractor as my ride and my little Jack Russell (Rupert) as my company.
Then in 1998 my turning journey led me to start working for a local tool company (Axminster tools) as an advisor on everything woodturning, this included teaching, demonstrating and writing for them. I'm pleased to say that I'm still working there and have been a big part of the development of woodturning within their product range where woodturning is a huge part of their business.
I've been very lucky to of been invited to many parts of the world to represent woodturning and to demonstrate the craft and my acquired skills to thousands of eager eyes and to pass on my obsession.
To date my adventures have taken me to many countries including the USA, France, Spain, Sweden, Holland, Germany, Ireland, Norway and have taken part in many symposiums and wonderful woodturning events. This is where my heart is, traveling and meeting people who share my passion, I love to see that enthusiasm either for one of my demonstrations or when they've made a piece they are really proud of in one of my lessons.
Writing has played a big part in my recent career, writing for woodturning magazine for the past 8 years, never imagining myself as a writer in anyway but being nurtured and mentored by the editor Mark Baker who I can honestly say helped me professionally and personally more than I could of ever imagined. As well as woodturning my other passions beside my family are Running, Open water swimming, Kayaking and Cycling. I'm part of the local Triathlon team where I've found a similar ethic to that of turning, practice will lead to improvement and feel constantly encouraged by the team while never feeling belittled by those better than me.
My wants for the future are to continue doing what I do and to meet as many people, travel to as many places and enjoy these experiences with my family who have become as invested in my lifestyle as I am. Both my sons help me with social media, website design, photography and videography while my wife controls the administration packaging of pieces and setting up products for sale as well of course, keeping me grounded, sometimes there are to many ideas in my head and I have to be told to stop talking about them quite so much
---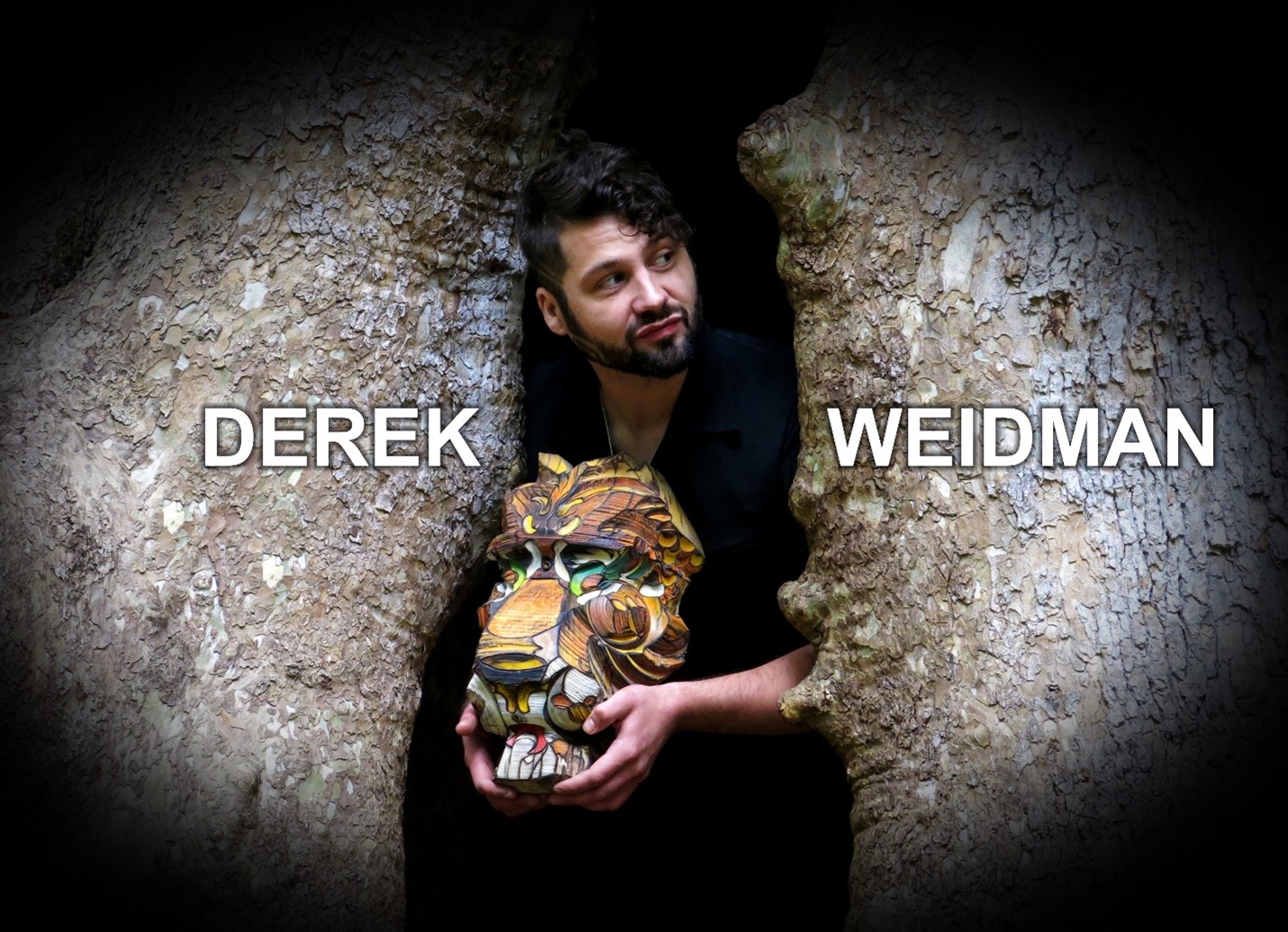 Derek Weidman
Derek Weidman, born in 1982, lives in rural Pennsylvania a bit outside the city of Philadelphia. Initially studying philosophy in college, but a born artist, he choose to follow in the path of his father who was a bird carver. When he began turning in 2003 he approached the lathe as a sculptor, primarily exploring and pushing the boundaries of multi-axis turning. His main effort was trying to create a visually descriptive and versatile language born out of the arcing and circular cuts of a lathe, and has spent well over a decade now building up a vocabulary of shapes and cuts. At the heart of many of his works he treats the lathe almost as an unusual camera, with every subject passing through its lens adding to a visually novel circular zoo of animals.