SWAT Leadership
The folks who oversee the SWAT symposium put in quite a few hours to make it the success it is.  The planning is done throughout the year, both in person and online.  This organization is fortunate to have qualified, dedicated people coordinating each annual symposium.  The AAW stresses that "Successful chapters are those whose leaders are both  passionate and committed." Of course, that statement refers to individual clubs, but it holds true for this one, too.  The SWAT leadership is passionate about turning and they are committed to helping others become more proficient turners.  
---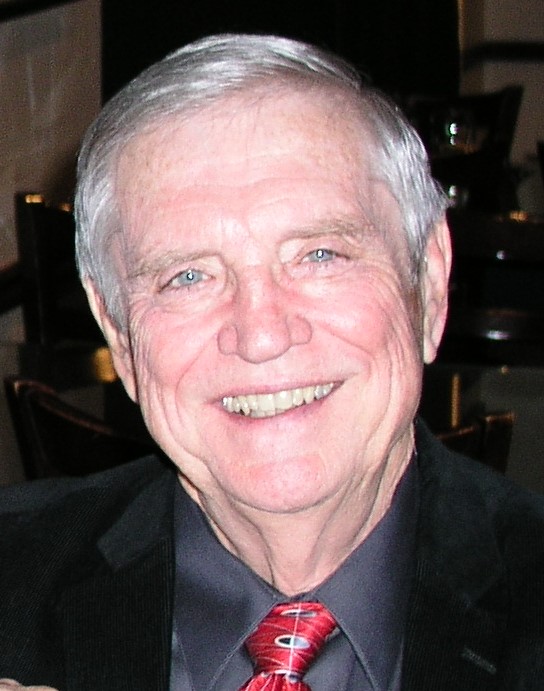 President, Tom Beatty
I was born in Virginia where my love of woodworking began.  My father and oldest brother were experienced carpenters who owned a cabinet shop in Virginia.  At 3 years of age, my dad gave me a toolbox and I have been woodworking ever since. 
My family, all 9 of us, moved to California when I was 6.  My dad and brother had careers building bridges, schools, banks, and houses.  I helped them build 2 houses, my mom and dads and my brothers, before I turned 16.  They were so well built that one of my nieces still lives in the house we build for my brother.
My dad had limited workspace in our garage, so he bought one of the first Shopsmiths in the early 1950s.  I spent many hours watching him turn bowls, lamps, and table legs out of redwood he reclaimed from old bridges he replaced.  I still have some bowls and a lamp that he made along with a couple of his lathe tools that he used.
Even though my life was consumed with college, raising a family, and pursuing an engineering career, I always had time for woodworking.  I built bookshelves, helped my brother add a room to my first house, and a lot of other flat work.
In 2005, my lovely wife bought me a Jet mini lathe as a birthday present without knowing the future she was creating. 
I tried learning how to use my new lathe by reading books, watching videos, and making lots of shavings and turning lots of pens.  I took classes at the local Rockler and Woodcraft and that helped, but I was still a novice woodturner.
In 2008, I met Larry Roberts, who introduced me to Woodturners of North Texas.  Thanks to Larry and the club, I learned more in the next 6 months than I had working on my own for almost 3 years.  The club offered me the opportunity to take classes from world famous woodturners including Stuart Batty, Mike Mahoney and Jimmy Clewes and attend demonstrations from many other well-known woodturners.
I was Secretary of the Woodturners of North Texas for 5 years, where I learned how much work goes into making a club successful. 
Club members introduced me to SWAT, and I started attending in 2012 and have attended every year since. 
I enjoy the learning experience that SWAT offers from world class demonstrators.  I like meeting the vendors and learning about capabilities of new tools and equipment. I really like the friendly helpful attitude of attendees and demonstrators who are always ready to share their experience and help you learn.
In 2018 I was asked by Stormy Boudreaux if I would like to join the SWAT Executive Committee.  I was excited to be asked since I really enjoyed SWAT and was glad when the SWAT Board of Directors elected me to be the 2nd Vice President.
Serving on the Executive Committee for the past few years, provided the opportunity to learn how much work goes on behind the scenes to make the SWAT Symposium a success.  The Club directors, the Host clubs for demonstration rooms, the organizing and operation Committees, the vendors, and the Waco Convention Center Staff, and all the volunteers who spend countless hours making SWAT one of the premier symposiums in the World. 
I am honored to be a part of this great organization and will try to do my part in making the 30th SWAT symposium a success in 2022.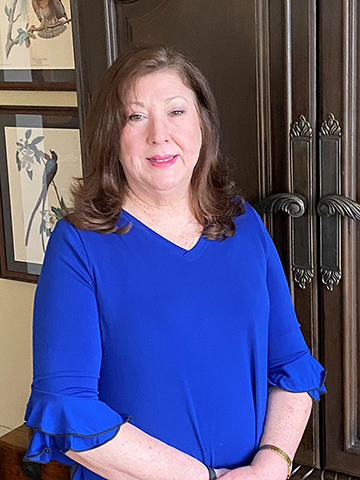 1st Vice President, Pam Thompson
After college and a few years in the workforce, my husband and I moved to Thailand and lived there for many years. How I wish my love of furniture making had developed by then because it would have been a great learning atmosphere. We moved on to 2 other continents before settling back in Texas. While I was overseas, my parents attended nearly every SWAT symposium from the very beginning.

When we returned to the States in 2003, I attended my first symposium with my parents. I had NO idea what turning was but decided to take a little "vacation " with them anyway.  Soon after the symposium was over, my dad sent me his old lathe to try my hand at turning. I can't say that I was hugely successful, but I kept at it. Now, I've added a couple more lathes to my shop, and lots more tools.

I will admit that building furniture is my first love. I started turning to add legs and other "parts" to my pieces. I spent several months studying furniture construction at the North Bennet Street School in Boston. Since that time, I have attended many fine woodworking schools all over the country and hope that I will still be able to continue my furniture construction education.

I always look forward to attending SWAT and have only missed one in the last 16 years.  Seeing old friends and meeting new ones each year, is a high point in my life. Serving  on the SWAT board in 2019 as the chairman of the 3 for 1 raffle, was such fun. I look forward to spending the next several  years on the Board and working for you to make SWAT a continued success.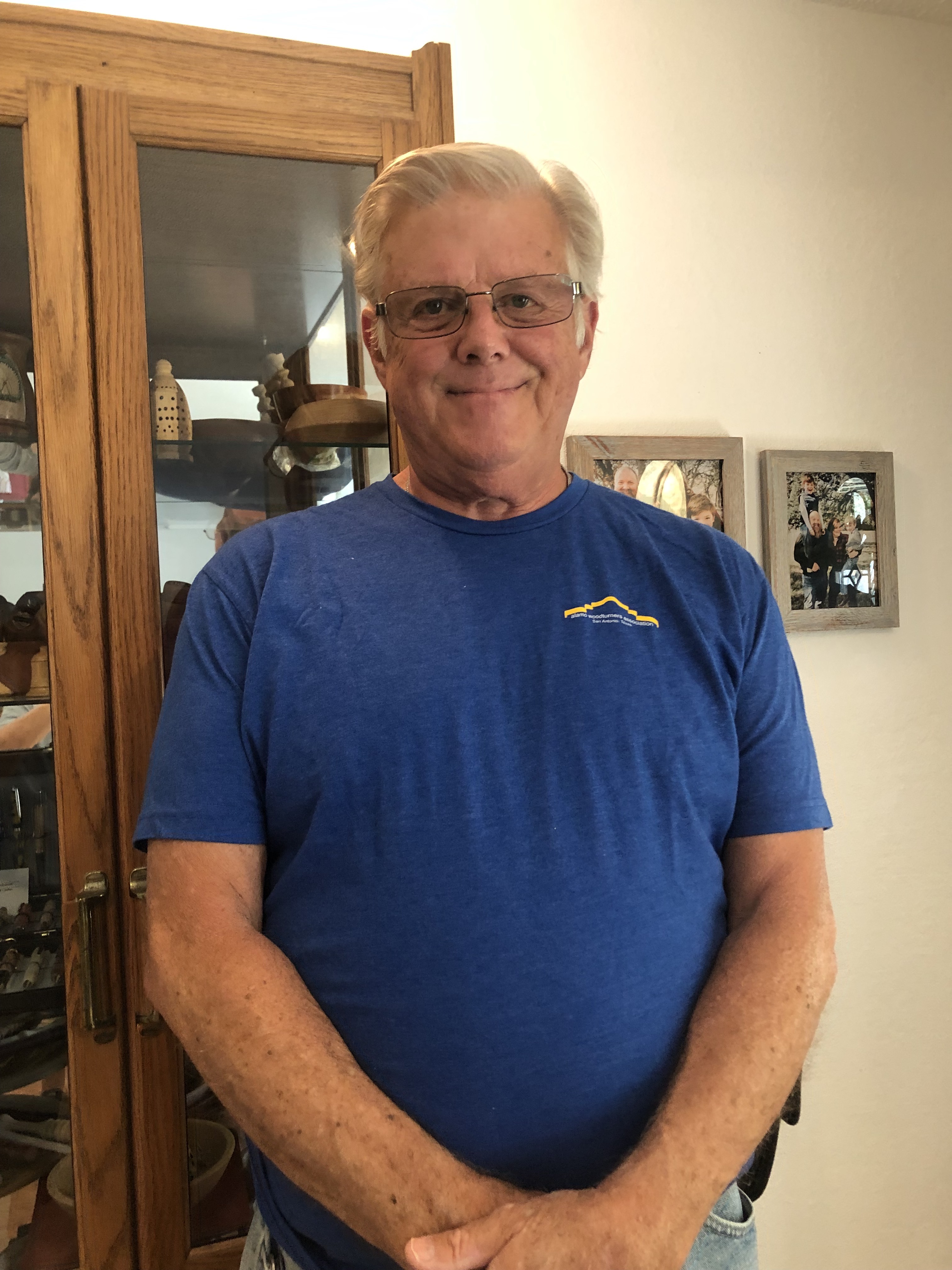 2nd Vice President, James Desbrow
After serving 4 years in the U.S.Coast Guard, I got married, went back to college and I have a degree in drafting.
We then moved to Houston, Texas. When we left Houston I had advanced to Senior Control System Designer (building Petro/Chemical Plants) but there were too many lay-offs. We came back to San Antonio with two kids, two cars and a cat.
Back in San Antonio I got employed with SYSCO Food Service as a salesman and a field trainer, I retired after 30 years.
In 1995 I got interested in wood working and like many of us I attended a workshop at the old ShopSmith store in San Antonio. Several years later at Woodcraft, I learned about wood turning. I received permission (from my wife) to buy a new lathe (Rikon mini) and tools.
I learned from classes at Woodcraft and a lot of practice over the years. I have taken classes at Homestead Heritage, Craft Supply and Woodcraft. A lot that I learned was with the help of Alamo Woodturners, Alamo Pen Turners and at SWAT. I have been a member of both clubs for the past 8 years and President of the Alamo Pen Turners for the last 5 years.
I have attended SWAT since 2016 and have thoroughly enjoyed every minute.
I look forward to working with the many great clubs, volunteers and vendors of SWAT. Also, I want to see SWAT grow as the premier turning symposium in the country and bring in younger turners.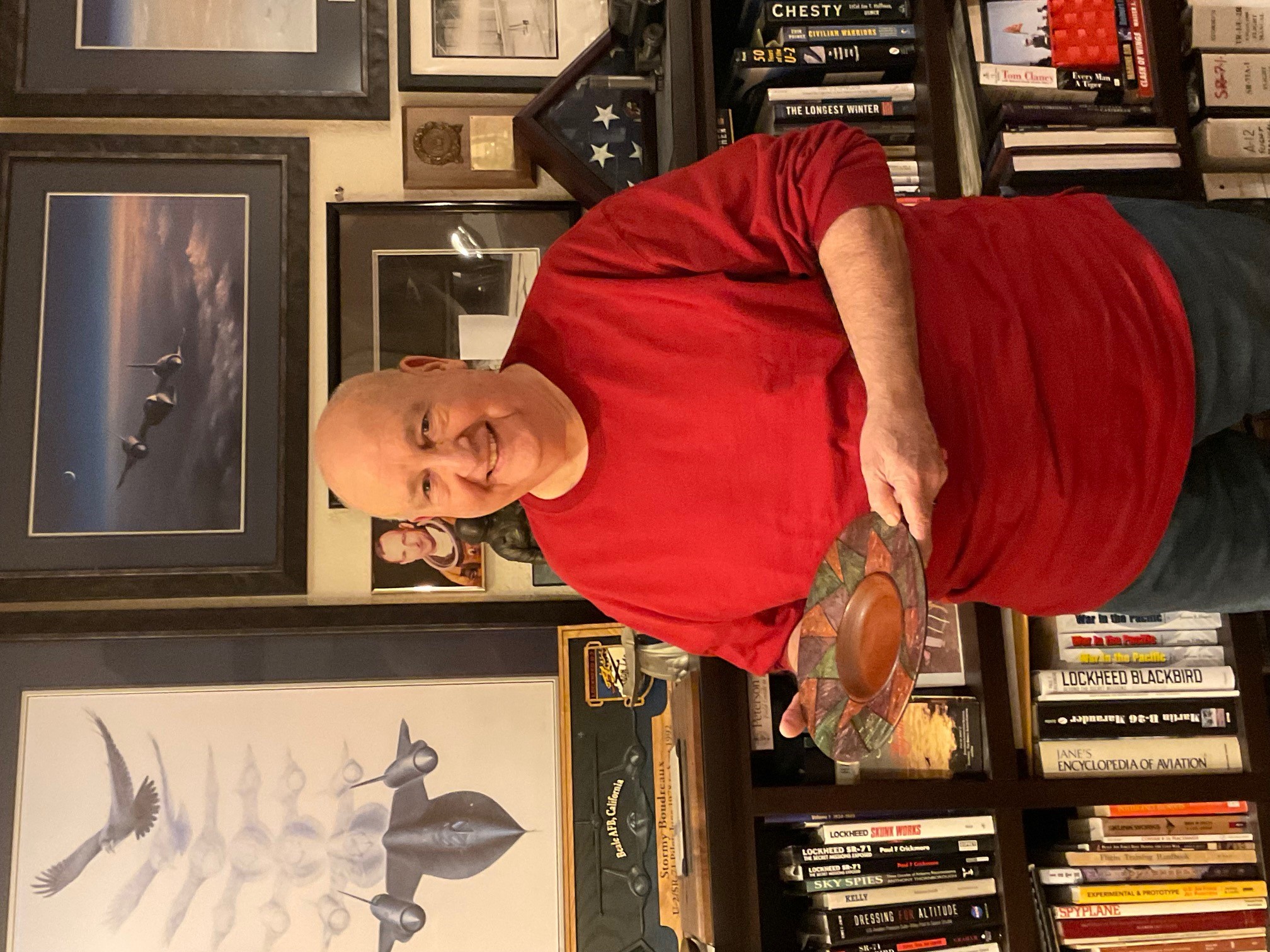 Secretary, Stormy Boudreaux
My father was a self-employed "old-school" carpenter contractor. I used to help him in his shop in the suburbs of New Orleans.  There was nothing he couldn't make with his hands.  Hopefully I've learned a few things from him.  After college, I joined the US Air Force in 1968.  Upon retiring after 24 years, went to work for the Lockheed Martin Skunkworks, transferring to Fort Worth in 2002.
The first time I was exposed to wood turning was in 2003.  Hanging around the Woodcraft store, I was invited to attend a Saturday session of Woodturners of North Texas where the national turner Barry Gross would be teaching the group how to turn a wooden egg.  I had never touched a lathe prior. He was kind enough to set me up in a corner on a mini-lathe and had me turning coves and beads, basic spindle turning skills – I didn't know enough to be apprehensive of the skew! I enjoyed that session very much.
At the time, living on a shoestring, I purchased a used Jet Mini and a couple of gouges. And off I went!  I went to my first SWAT Symposium in 2004. Soon I was President of WNT.  Certainly, not because I was the best turner, no way!  We had some very skillful and remarkable turner / instructors in that club and I learned a lot.  WNT was one of the clubs that helped bring SWAT, as we know it today, into being, initially known as A Texas Turn or Two.   Later, it became the South West Association of Turners when clubs from neighboring states wanted to join in on the TTT turning Symposium.
After 4 years as President of WNT, I passed the baton to Dave Marshall.  I became very active with SWAT, first as the Vendor Chairman and then the Chairman for securing art donations for the 2-for-1 Raffle. I did this for many years. Eventually, when an elected SWAT VP needed to back out of his duties due to personal reasons, I was the scrape at the bottom of the barrel to replace him mid-year.  I was in above my head but Buddy Compton, who was the SWAT President, was a wonderful mentor and friend; he knew just when to throw me a life preserver and when to let me flounder a bit - eventually I became SWAT President in 2017.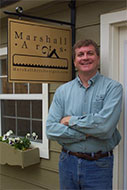 Treasurer, Dave Marshall
Raised in a small cabin on the plains of Kansas, I started my woodworking and woodturning career early in life. After building my first, small lathe, I began my woodturning career by selling hand-turned toothpicks to local farmers and businessmen.
My skill set grew tremendously during this period which culminated in my ability to use a scraper to turn almost any product on the lathe. When I was thirteen, I read with lust about turner David Ellsworth in in an old black and white edition of Fine Woodworking. That article vaulted me to turn (scrape) my first box and lid. A beauty of a specimen in black walnut. Form and function – perfect. The bottom lacking just somewhat as not being completely flat and bearing the hallmark of three screw holes that attached the faceplate. Still stunning today.

Thirteen was the age a young student began his first year in Industrial Arts class in junior high school. I was no different except that I wanted to use those big, Rockwell school lathes! But, alas, those lathes were only meant for the more-skilled, more-mature ninth graders. Balderdash! After sweet-talking my Industrial Arts teacher, Mr. Anderson (who drove a pristine '57 Chevy), he allowed me to come to shop before classes started for the day and turn all I wanted. He showed me the very basics of some of the limited tools we had available for turning. For some reason I don't ever recall a lesson in sharpening these tools though…. that probably explains my expertise with the scraper. I turned my heart out that year; sock darns, miniature baseball bats, candlesticks, miniature baseball bats, boxes, small plates, miniature baseball bats to name a few.
Something happened. I think life, girls, schooling, college, my masterplan to escape Kansas tapered my turning time. Now don't get me wrong, summertime, between parties and pitchers of beer, I tried to design, woodwork and woodturn as much as possible. I've always loved the design and then build and then re-design cycle of creation. Maybe that's why I became an Aerospace engineer.
After graduation and landing in sunny Burbank, California, I got my first paycheck. No, I did not buy an obligatory TV. No, my newlywed wife did not "need" that sofa or cookware. I bought my first Shopsmith for my single-car garage/shop. I bought it for "us." I was on my way!
Years later, and hundreds of projects later, we ending up in panther-sleepy Fort Worth. After starting a family, I began to look for a woodworking club to join, similar to ones I belonged to in California and Georgia (kids can be noisy and whiny, unlike the soothing whir of a lathe or tablesaw). Not finding anything close by in the Metroplex, I ran across a magazine article featuring Devore Burc and its mentioning of a bunch of ragtags called the Woodturners of North Texas. Whoa…. they met only three miles from my home! Their next meeting, I snuck in and grabbed a seat and was blown away by the demo. I was hooked again.

I know that this is fascinating as all get-out, but long-story short, I joined that ragtag bunch and haven't looked back. After a while, I was president of the Woodturners of North Texas. The glamour and prestige went to my head and I ruled the Club with an iron fist for four years. That group of ragtags became a lean, mean turning machine, I say.

As a Club member, I became familiar with the South West Association of Turners and attended my first SWAT symposium. Blown away, again! Unbelievable talent…and some of the other turners weren't that bad either.
I've been Treasurer of SWAT for a few years now and can almost make the budget numbers add up - between turning projects. The remainder of my free time is spent….wait, I have no free time outside of SWAT. Other activities I do between SWAT projects are spending quality time with my wife (as long as she's conveniently standing in my dusty shop), devotion to my new career in the Oil and Gas business, I'm also Treasurer of a professional organization (North Texas Measurement Association), eating, sleeping… well, you get the drift.

I am truly honored to be associated with SWAT and every year look forward to the unbelievable talent and skill that you all bring to Waco! Onward to our 25th anniversary! I_t_'s_ _g_o_i_n_' _t_o_ _b_e_ _l_e_g_e_n_d_a_r_y_!
---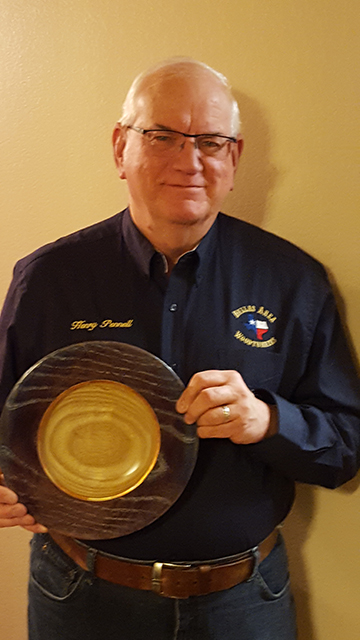 Past President, Henry Pennell
My first experience with a lathe was at a Woodworking Show in Dallas in 2009. Craft Supplies had a booth and invited me to make a pen. I was hooked. Later, I took a class from John Horn at Woodcraft, and bought a Jet mini lathe. I joined Dallas Area Woodturners (DAW) in November of 2010, and the demonstrator was Michael Hosaluk. Wow, I was mesmerized by his skill and the ease with which he handled his tools.  I later became Treasurer of DAW in 2013, and most recently, President in 2017.
I attended my first SWAT Symposium in 2013, and have been here every year since. I love talking to the other turners, seeing the demos and expanding my awareness of the various areas of our craft. I hope to help SWAT prosper and improve in the coming years.
"the only permanent value of work lies in achievement."  Bill Percell