SWAT Leadership
The folks who oversee the SWAT symposium put in quite a few hours to make it the success it is.  The planning is done throughout the year, both in person and online.  This organization is fortunate to have qualified, dedicated people coordinating each annual symposium.  The AAW stresses that "Successful chapters are those whose leaders are both  passionate and committed." Of course, that statement refers to individual clubs, but it holds true for this one, too.  The SWAT leadership is passionate about turning and they are committed to helping others become more proficient turners.  
---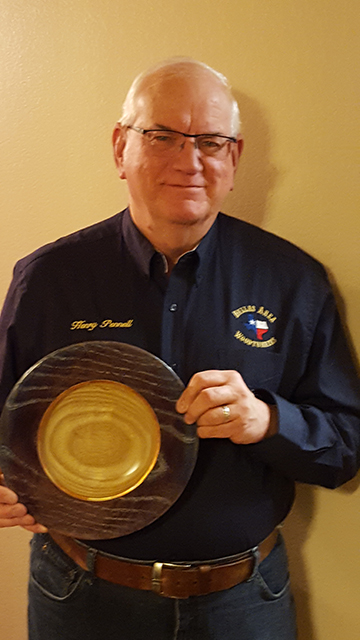 President, Henry Pennell
My first experience with a lathe was at a Woodworking Show in Dallas in 2009. Craft Supplies had a booth and invited me to make a pen. I was hooked. Later, I took a class from John Horn at Woodcraft, and bought a Jet mini lathe. I joined Dallas Area Woodturners (DAW) in November of 2010, and the demonstrator was Michael Hosaluk. Wow, I was mesmerized by his skill and the ease with which he handled his tools.  I later became Treasurer of DAW in 2013, and most recently, President in 2017.
I attended my first SWAT Symposium in 2013, and have been here every year since. I love talking to the other turners, seeing the demos and expanding my awareness of the various areas of our craft. I hope to help SWAT prosper and improve in the coming years.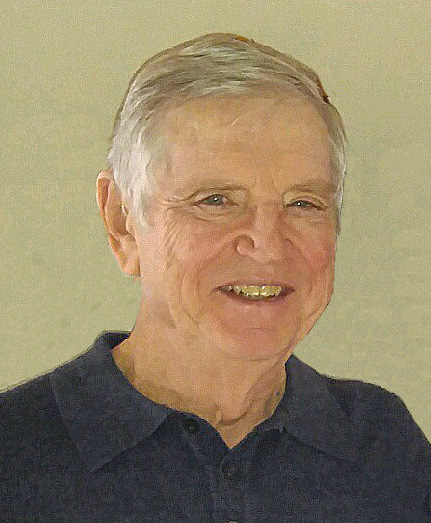 1st Vice President, Tom Beatty

My love of woodworking comes from my father and oldest brother who were carpenters and owned a cabinet shop in Virginia.  At 3 years old, I received a tool box and have been woodworking ever since.  My dad showed me how to turn bowls, lamps and table legs using an early 1950s era Shopsmith.   Even though college, family life and engineering career took most of my time, I always had time for woodworking.  In 2005, my lovely wife bought me a Jet mini lathe as a birthday present without knowing the future she was creating.  I tried learning how to use my new lathe by reading books, watching videos and I making lots of shavings and turning lots of pens.  In 2008, I met Larry Roberts, who introduced me to Woodturners of North Texas.  Thanks to Larry and the club, I learned more in the next 6 months than I had working on my own for almost 3 years.  After 4 years in the club, I was elected club Secretary, a job I held for 5 years.  I started attending SWAT in 2012 and have attended every year since.  I enjoy the learning experience that SWAT offers from world class demonstrators and vendors demonstrating their products and showing capabilities of new tools and equipment.  I look forward each year to meeting old and new friends and sharing turning experiences.  I am honored to be given the opportunity to help SWAT continue to be the world's best woodturning symposium.
2nd Vice President, Pam Thompson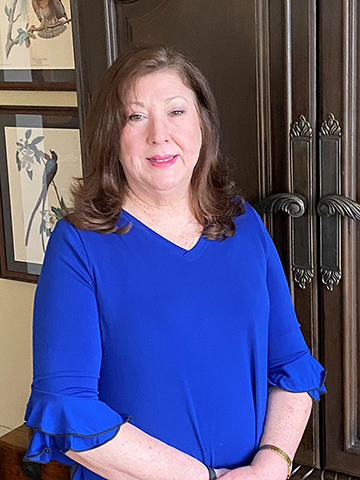 After college and a few years in the workforce, my husband and I moved to Thailand and lived there for many years. How I wish my love of furniture making had developed by then because it would have been a great learning atmosphere. We moved on to 2 other continents before settling back in Texas. While I was overseas, my parents attended nearly every SWAT symposium from the very beginning.

When we returned to the States in 2003, I attended my first symposium with my parents. I had NO idea what turning was but decided to take a little "vacation " with them anyway.  Soon after the symposium was over, my dad sent me his old lathe to try my hand at turning. I can't say that I was hugely successful, but I kept at it. Now, I've added a couple more lathes to my shop, and lots more tools.

I will admit that building furniture is my first love. I started turning to add legs and other "parts" to my pieces. I spent several months studying furniture construction at the North Bennet Street School in Boston. Since that time, I have attended many fine woodworking schools all over the country and hope that I will still be able to continue my furniture construction education.

I always look forward to attending SWAT and have only missed one in the last 16 years.  Seeing old friends and meeting new ones each year, is a high point in my life. Serving  on the SWAT board in 2019 as the chairman of the 3 for 1 raffle, was such fun. I look forward to spending the next several  years on the Board and working for you to make SWAT a continued success.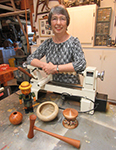 Secretary, Betty Hager
Woodturning is not my primary hobby, but being married to Stacey Hager; I have had some quality lessons and have turned several art objects. When I turned these I was using a Delta Midi lathe or Stacey's 2436 One Way.   
 
I have attended this woodturning symposium since it was called TTT (Texas Turn or Two) and was held at the Maricopa Camp Ground.  I remember the first time we attended a TTT symposium.  The Maricopa location offered a few motel rooms and plenty of camp sites.  There was a large barn where two demonstrations were staged and two smaller buildings for the other two demos; four choices at each rotation.  The vendors were in tents!  There were two to three tables where turners could display their work called the "Instant Gallery!"   These early get-togethers were held in October.  When the weather was great it was a perfect time of year…but we had two cold rainy years in a row.  Something had to change.  So we tried other locations – San Angelo, Temple, Wichita Falls…finally finding our current venue at Waco. 

Stacey and I were representatives from our Club (Central Texas Woodturners) when we transitioned from TTT to Southwest Association of Turners (SWAT).  In 2008, I served as secretary to Steven Gottlieb when he was President of SWAT.  I wrote a manual for the organization to provide some continuity from one year to the next.

I have attended AAW and the Utah Woodturning Symposium and they are both wonderful, but what impressed me early on about our gathering was the spirit of friendship and willingness to share.  The name tags at TTT always had your first name in large type…for everyone, turners and presenters.  So everyone was on a first name basis.  I watched David Ellsworth shoot long streamers of wood from his hollowing project, targeting friends in the audience.  Rude Osolnik, gave me my first tuning lesson in a tent at the Powermatic booth.  We have come a long way from those days, but I believe in this organization.  Whether you are a beginning turner or an advanced artist, you will meet some great people at this Symposium and every time you attend you will learn something that will improve your skills.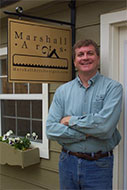 Treasurer, Dave Marshall
Raised in a small cabin on the plains of Kansas, I started my woodworking and woodturning career early in life. After building my first, small lathe, I began my woodturning career by selling hand-turned toothpicks to local farmers and businessmen.
My skill set grew tremendously during this period which culminated in my ability to use a scraper to turn almost any product on the lathe. When I was thirteen, I read with lust about turner David Ellsworth in in an old black and white edition of Fine Woodworking. That article vaulted me to turn (scrape) my first box and lid. A beauty of a specimen in black walnut. Form and function – perfect. The bottom lacking just somewhat as not being completely flat and bearing the hallmark of three screw holes that attached the faceplate. Still stunning today.

Thirteen was the age a young student began his first year in Industrial Arts class in junior high school. I was no different except that I wanted to use those big, Rockwell school lathes! But, alas, those lathes were only meant for the more-skilled, more-mature ninth graders. Balderdash! After sweet-talking my Industrial Arts teacher, Mr. Anderson (who drove a pristine '57 Chevy), he allowed me to come to shop before classes started for the day and turn all I wanted. He showed me the very basics of some of the limited tools we had available for turning. For some reason I don't ever recall a lesson in sharpening these tools though…. that probably explains my expertise with the scraper. I turned my heart out that year; sock darns, miniature baseball bats, candlesticks, miniature baseball bats, boxes, small plates, miniature baseball bats to name a few.
Something happened. I think life, girls, schooling, college, my masterplan to escape Kansas tapered my turning time. Now don't get me wrong, summertime, between parties and pitchers of beer, I tried to design, woodwork and woodturn as much as possible. I've always loved the design and then build and then re-design cycle of creation. Maybe that's why I became an Aerospace engineer.
After graduation and landing in sunny Burbank, California, I got my first paycheck. No, I did not buy an obligatory TV. No, my newlywed wife did not "need" that sofa or cookware. I bought my first Shopsmith for my single-car garage/shop. I bought it for "us." I was on my way!
Years later, and hundreds of projects later, we ending up in panther-sleepy Fort Worth. After starting a family, I began to look for a woodworking club to join, similar to ones I belonged to in California and Georgia (kids can be noisy and whiny, unlike the soothing whir of a lathe or tablesaw). Not finding anything close by in the Metroplex, I ran across a magazine article featuring Devore Burc and its mentioning of a bunch of ragtags called the Woodturners of North Texas. Whoa…. they met only three miles from my home! Their next meeting, I snuck in and grabbed a seat and was blown away by the demo. I was hooked again.

I know that this is fascinating as all get-out, but long-story short, I joined that ragtag bunch and haven't looked back. After a while, I was president of the Woodturners of North Texas. The glamour and prestige went to my head and I ruled the Club with an iron fist for four years. That group of ragtags became a lean, mean turning machine, I say.

As a Club member, I became familiar with the South West Association of Turners and attended my first SWAT symposium. Blown away, again! Unbelievable talent…and some of the other turners weren't that bad either.
I've been Treasurer of SWAT for a few years now and can almost make the budget numbers add up - between turning projects. The remainder of my free time is spent….wait, I have no free time outside of SWAT. Other activities I do between SWAT projects are spending quality time with my wife (as long as she's conveniently standing in my dusty shop), devotion to my new career in the Oil and Gas business, I'm also Treasurer of a professional organization (North Texas Measurement Association), eating, sleeping… well, you get the drift.

I am truly honored to be associated with SWAT and every year look forward to the unbelievable talent and skill that you all bring to Waco! Onward to our 25th anniversary! I_t_'s_ _g_o_i_n_' _t_o_ _b_e_ _l_e_g_e_n_d_a_r_y_!
---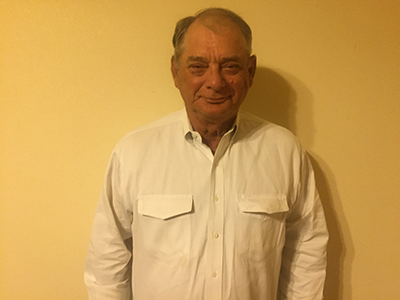 Past President, Gordon Graves
I was first introduced to a wood lathe in 1960, in 7th  Grade wood Class. Mr. McDonald, my instructor,  helped me attach a face plate to a chunk of maple. Took me three weeks of class to turn my Dad an ashtray. I still have that ashtray. 
After high school and college I started farming, forty-two years later I retired. During that 42 years I put together a good woodworking shop. Farming was always my first love, but woodworking came a close second.  I bought my first lathe in 1992, a small Craftsman bowl lathe.
In 2013 I decided I needed a bigger lathe, but during the hunt I found something much more valuable, The Southplains Woodturners Club. Mr. Glenn Williamson, one of the founding fathers of our club, sold me a lathe and sold me on the club. I joined the club shortly after and have attended many classes, beginners and intermediate.  I am now helping to teach these same classes as well as serving as the club treasurer.  
I attended my first SWAT symposium in August of 2016 and was amazed at the number of people who were interested in woodturning. Everyone I met was friendly and helpful. I am looking forward to helping to carry on the proud tradition of SWAT.
"the only permanent value of work lies in achievement."  Bill Percell