SWAT Raffle Details
This year's SWAT raffle is called a "3 for 1" or "three for one"... however you would like to call it. 
The first opportunity to win something is at the opening ceremony on Friday morning.  Isn't that exciting?!  The winner will receive a midi lathe or an Arrowmont scholarship.  
The second raffle is at the banquet Saturday evening.  This opportunity will include approximately 30 pieces of gorgeous art.  
The third and final raffle will be held on Sunday at lunch.  This raffle will be for tools, wood, a scholarship to Arrowmont and ... yes ... LATHES!
Start buying those raffle tickets now!
Pictures of this year's raffle art (more to come) updated 8/16/2023

Jeff Allen
Mesquite Hollow Form with pear lid with black resin and acrylic paint on lid and accent ring. Textured and filled with metallic green wax paste. It is 11" x 6", semi-gloss lacquer finish.
---
David Bartell
Native American Vase: Mesquite 10.5" tall x 10" wide. Rim and base colored with archival ink. Beading and basket-illusion features near the base and just inside the rim. Brushed acrylic paint sealed with acrylic spray. Finish is multiple coats of buffed Waterlox.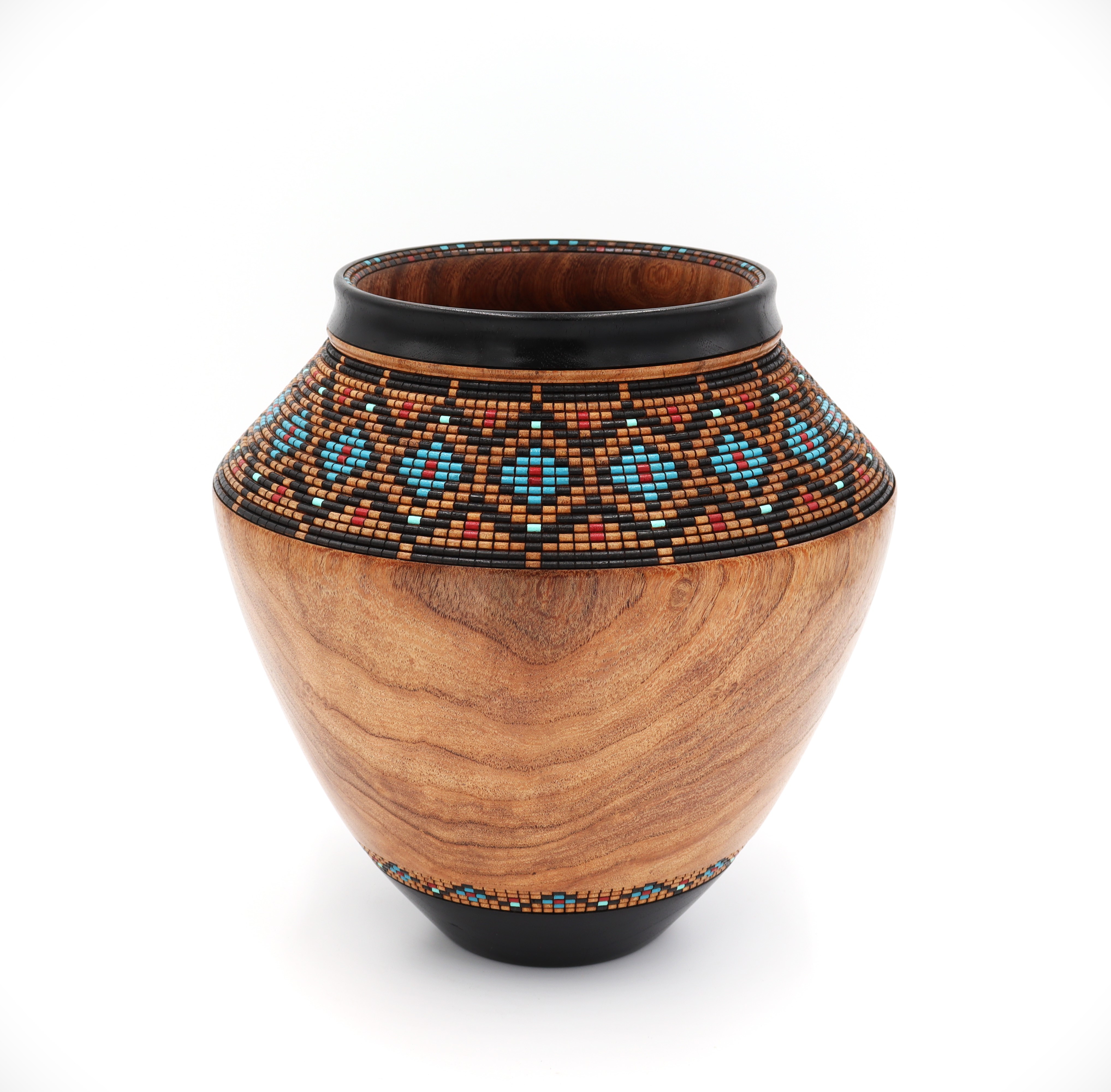 ---
Kevin Bassett
Cedar Elm Natural Edge Bowl with pyography, piercing, India Ink & acrylic paint 13"l X 8" w X 3" h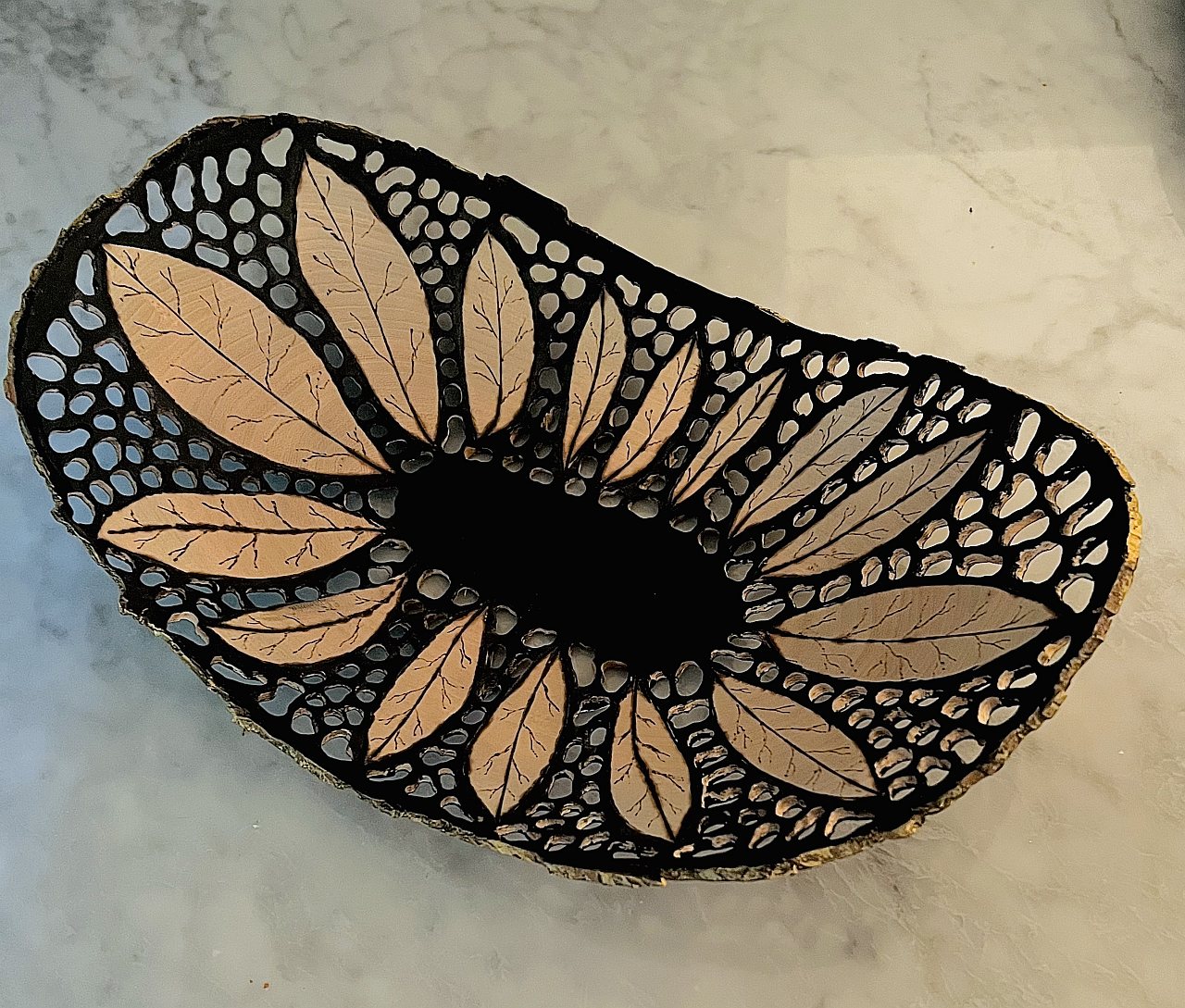 ---
Jim Bob Burgoon
Quilted Maple bowl - double dyed rim, black and aqua marine, 6.5" x 1.75"
---
Tom Canfield
Pyinma rectangular shallow bowl, 7.5"Wx8Lx2.25"H, multicoat homebrew Danish Oil buffed with Tripoli and Renaissance micro-crystalline wax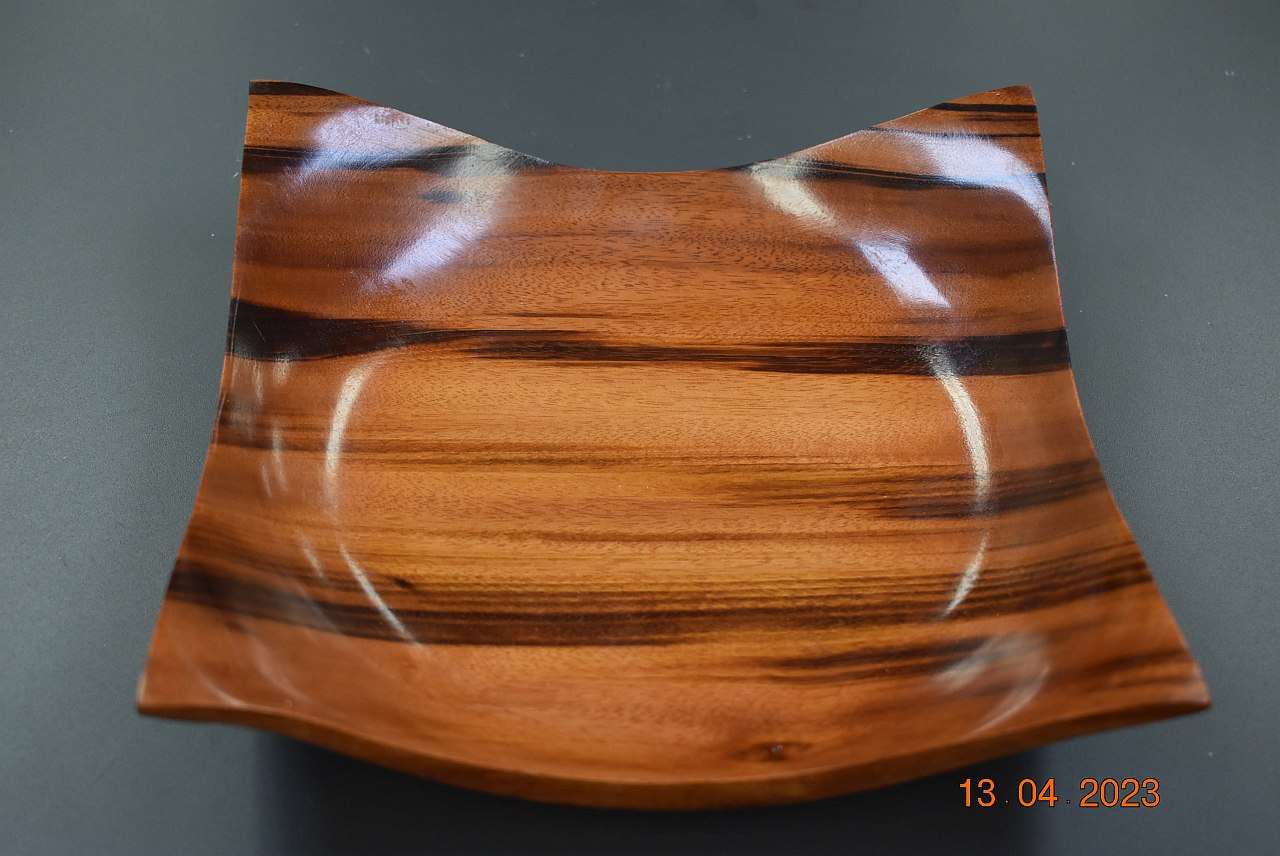 ---
Andy Chen
"Corian Vessel with Purpleheart Rim" Hollow vessel Corian with Purpleheart rim.
---
Lee Craft
Woven basket; CHINESE Tallow wood , 9" x 3.25" tall -5 inch opening, satin polyurethane finish
---
Delbert Dowdy
Segmented Vase Tiger Maple, Birdseye Maple, Bloodwood, Rings of assorted exotic & local woods - Varnish finish 10.5" x 6"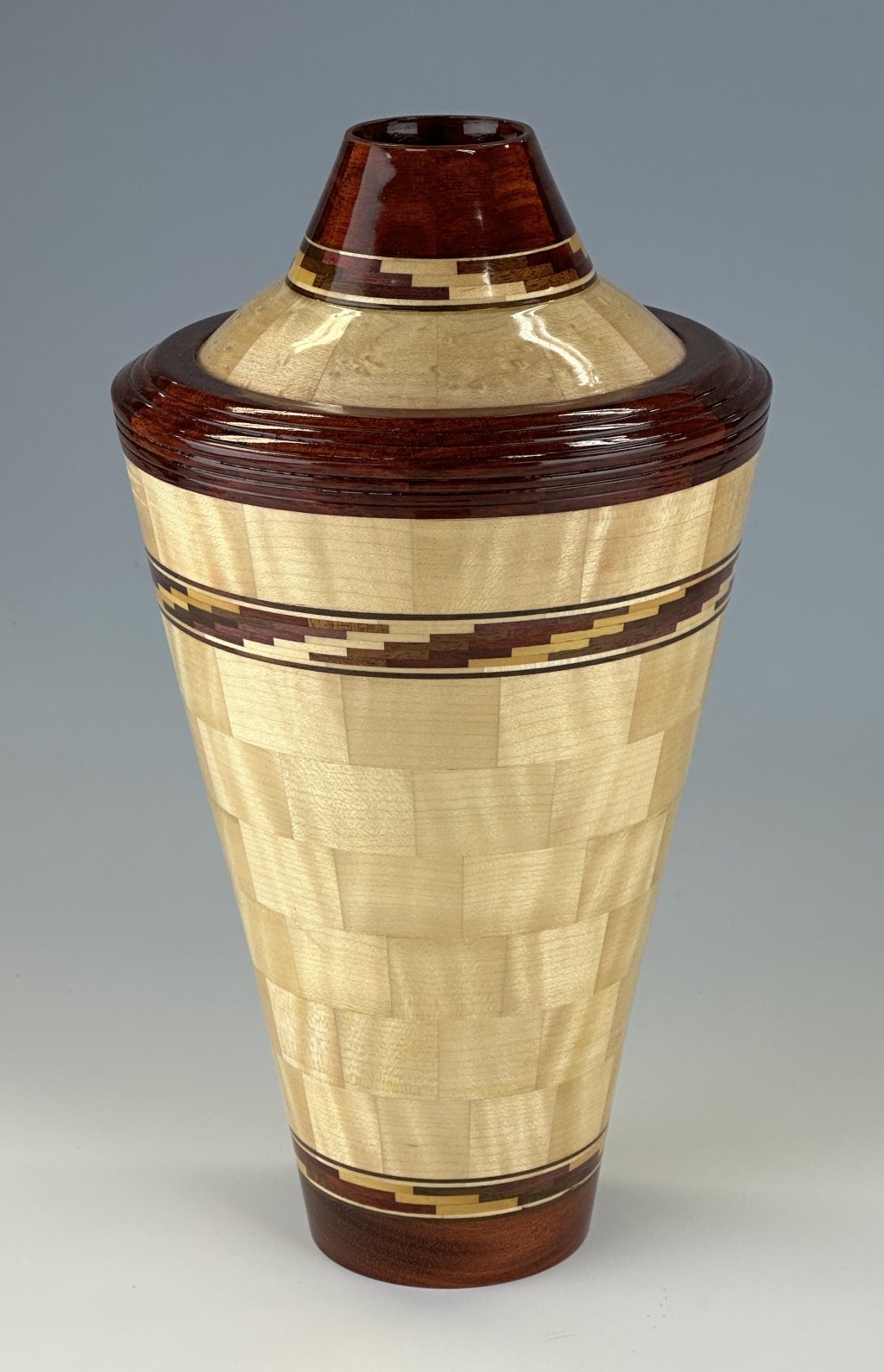 ---
Linda Ferber
Title: Fairy Garden, Birch, boxelder, walnut and maple.4" tall x 4" dia
---
Daniel Fliegel
Basket-weave style bowl (using bowl-from-a-board process) with a semi-serrated octagon top & bottom, Teak, Padauk, & Peruvian Walnut, Polyurethane. 11.25"" x 4.25".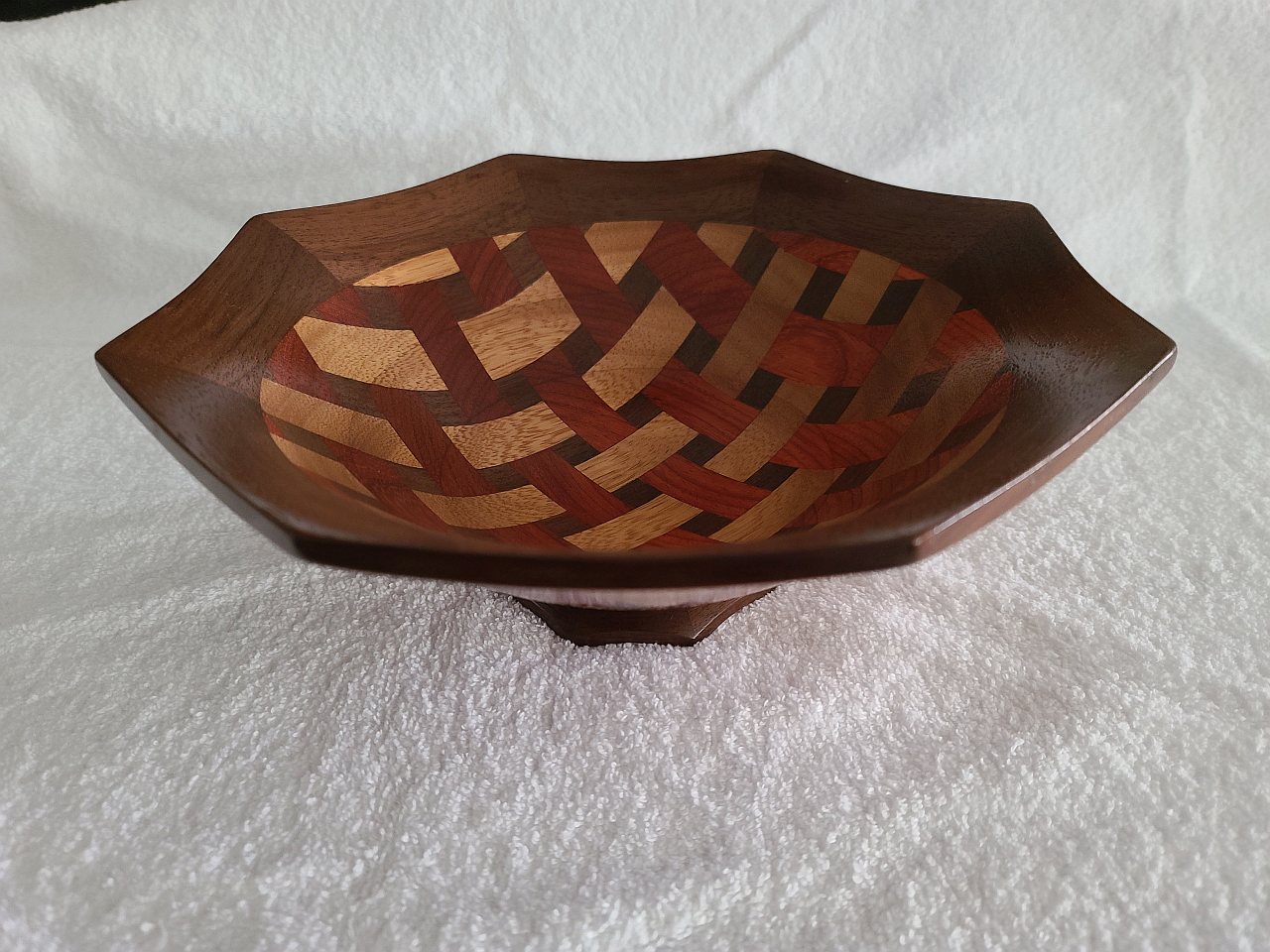 ---
Dennis Ford
"Blue Moon"  A multi-axis Hackberry piece with blue dye and steel base.  Overall height is 15 inches.

---
Scott Hampton
'Ocean Waves' - Sugar Pine Platter with deep texture from rim to center, a scorched center medallion highlighted with silver wax, 16" x 2".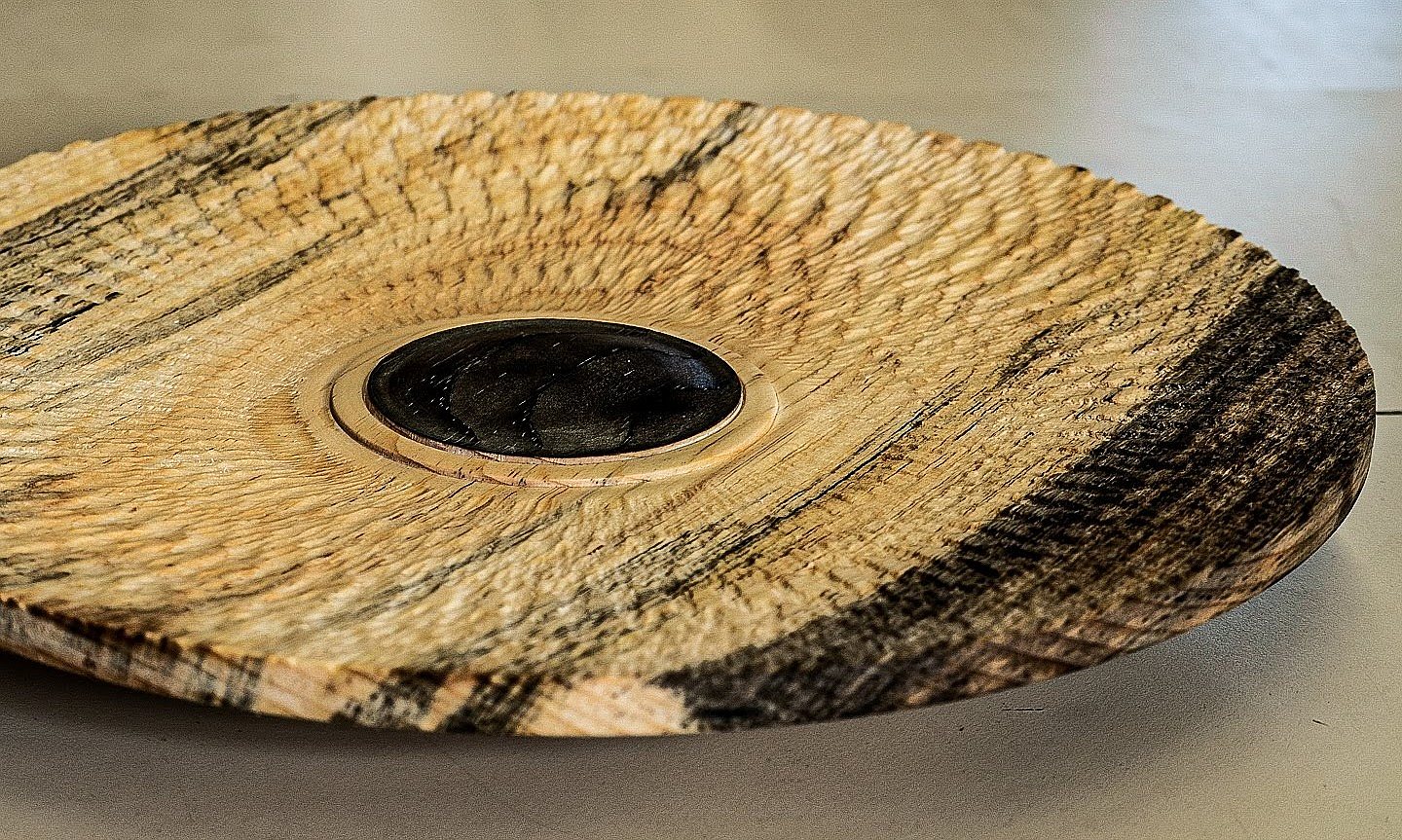 ---
Dave Landers
4 Shot Barrels. White Oak, natural oil & pine resin finish outside, charred inside. Wee bit more than a "shot" each.
---
Janice Levi
Hanging Ornament: claro walnut and Blackwood. 7" by 3"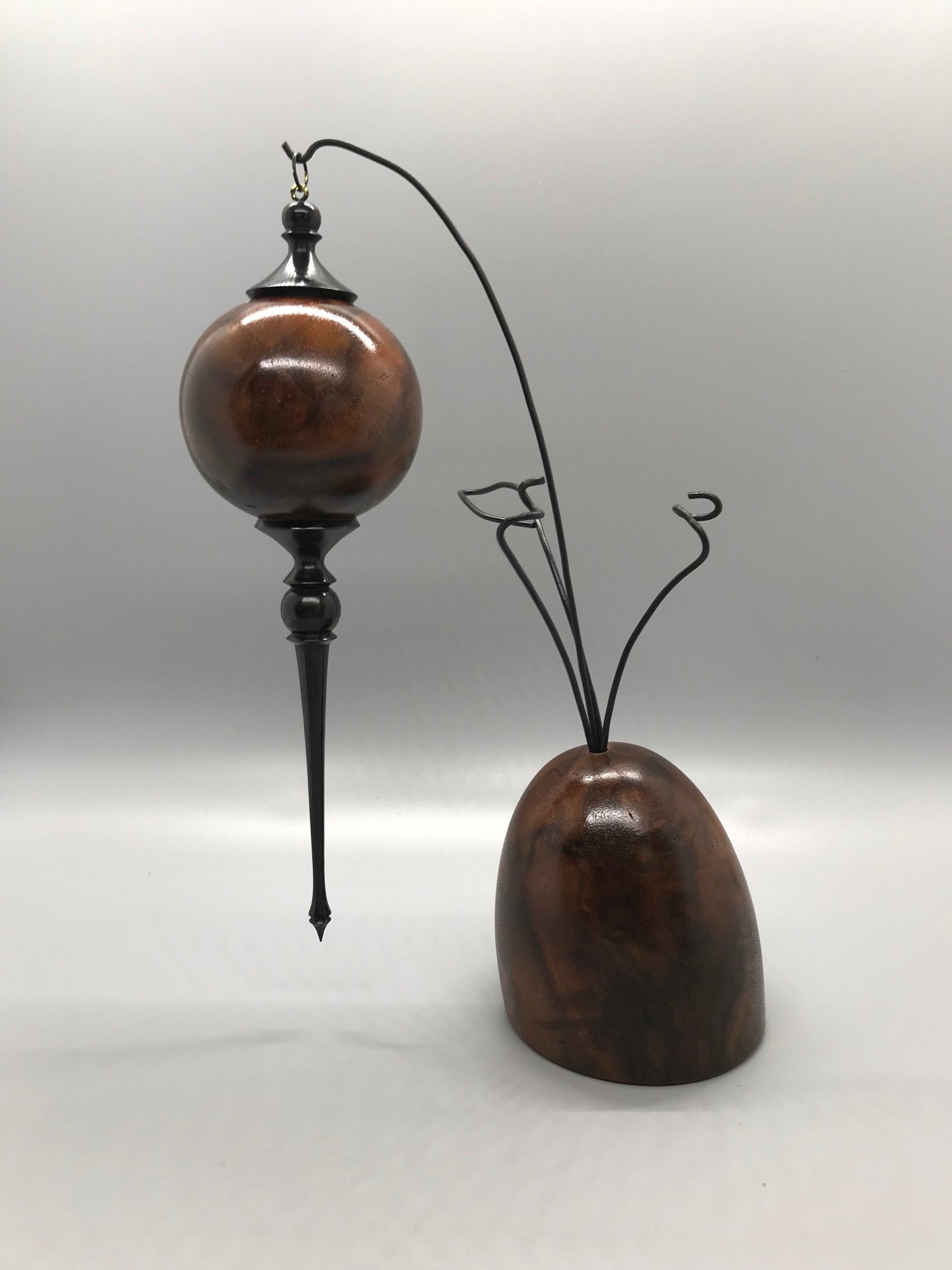 ---
Sammy Long
Carved Maple Leaf Box, Cherry 3.75" x 4.75"tall, Finish: Hampshire Sheen Danish Oil
---
Dave Marshall
"Ein Stein  (One Stone)" - Curley Maple Platter with pierced field of Ein Stein stone or tile , 13" x 7/8" Truly unique piercing that incorporates the 13-sided einstein tile shape
---
Ann Mellina
Mesquite Hollow form, inlay is the skin of a Texas Rat Snake 10"x 5 " polyurethane finish.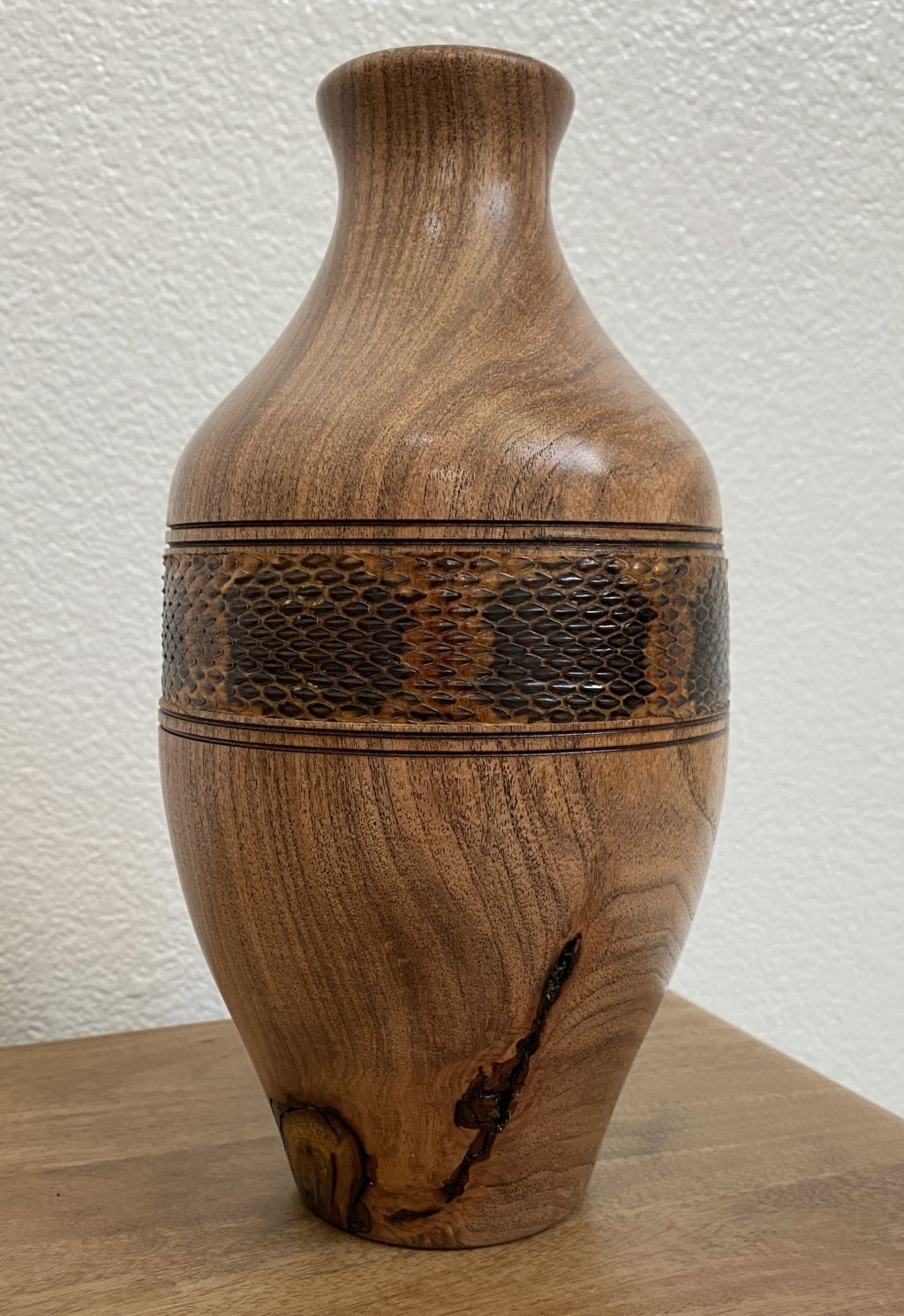 ---
Paul Milo
Sweetgum hollow form, walnut base, collar, and finial. 12"w x18"h. 2 coats of minwax antique oil then buffed.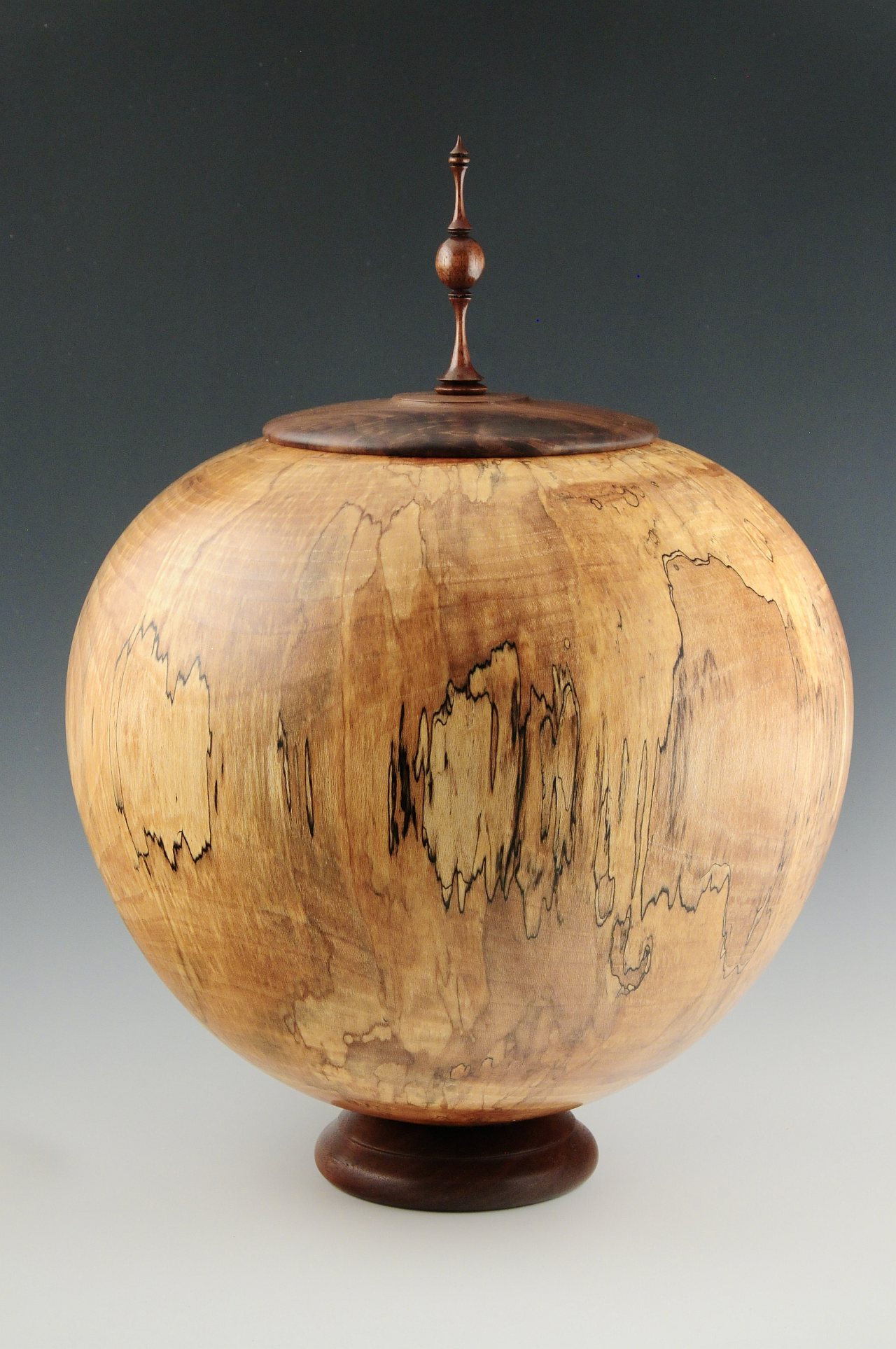 ---
Anna Rachinsky
 "Sunflower Box" - Mesquite with an agarita & epoxy inlay.  4.5"x 2"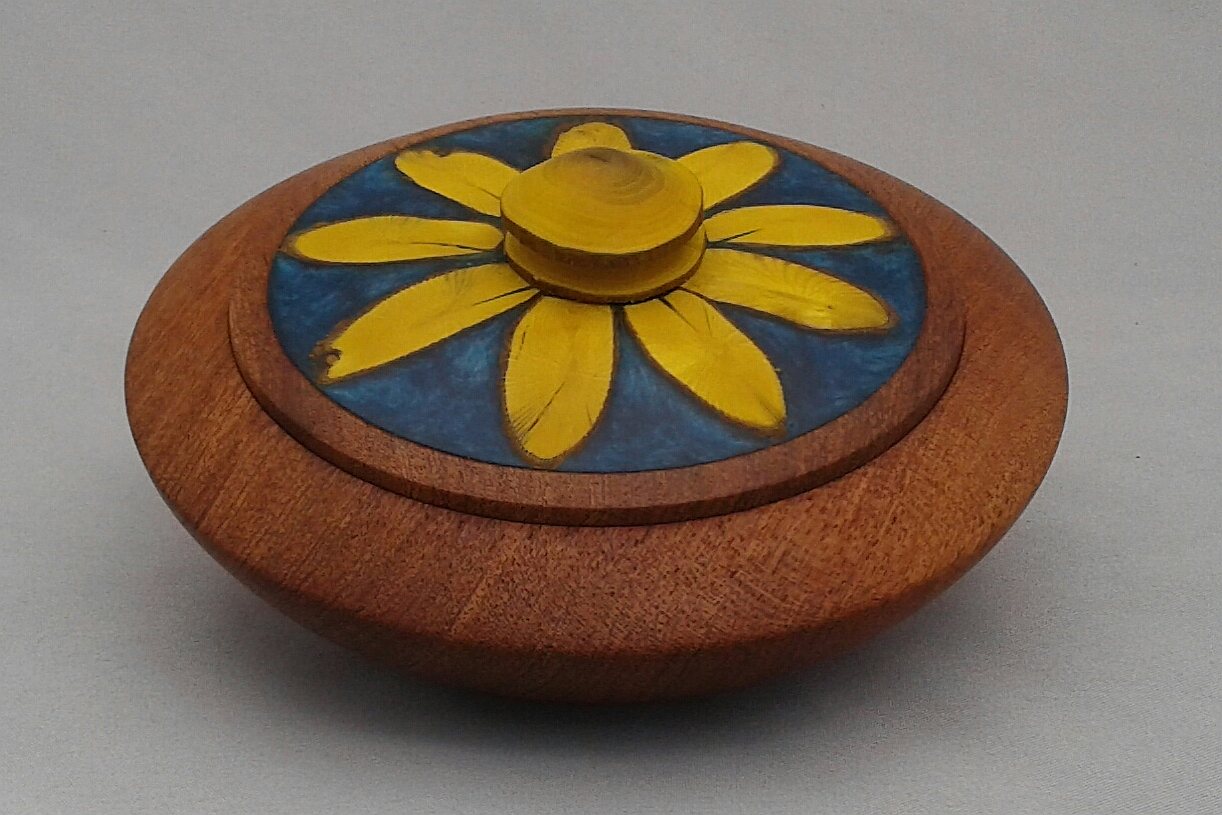 ---
James Richardson
Hollow form - Mesquite as the core with Cholla cactus ribs on the outside, cast in blue Alumilite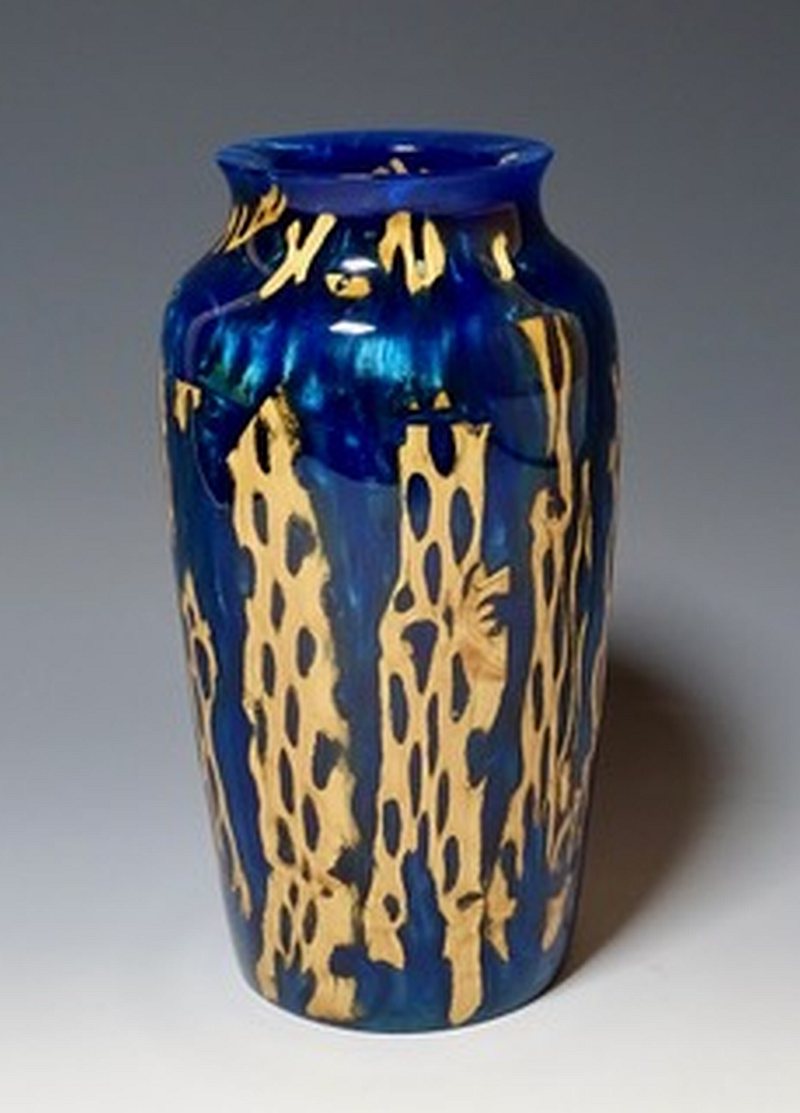 ---
Gary Roberts
Surface-enhanced lidded vessel, Texas Honey Mesquite, 14" x 5" (not including handles), Deft finish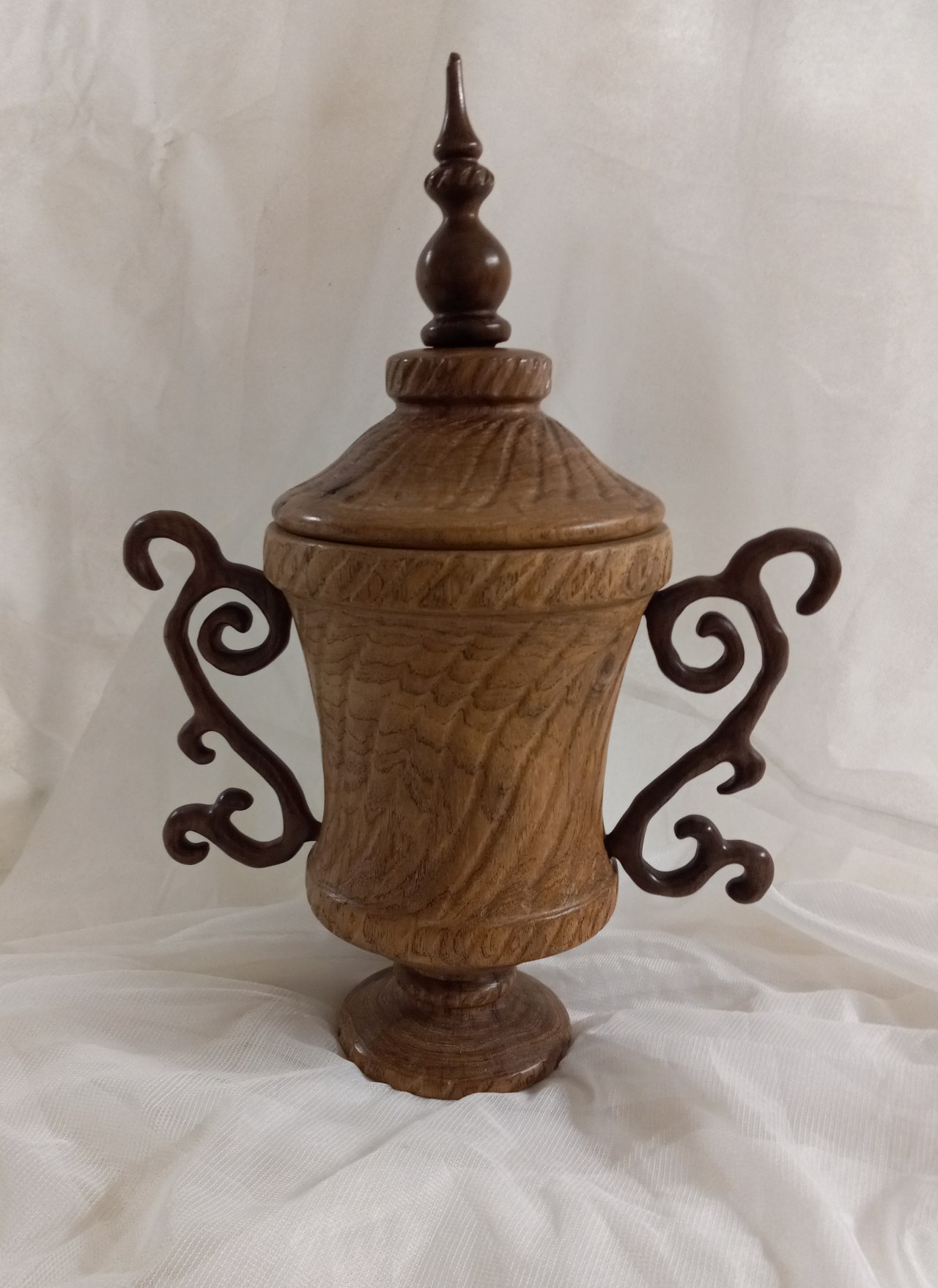 ---
Gary Rock
Black Walnut hollow vessel, Lather lacing with turned aluminum Danish Oil finish 7.4" wide x 4.75" tall: 18.5 feet of lacing
---
Tana Saul
"Just Beneath the Surface".  Cherry vessel cast in resin with a hammerhead shark and pricklypear skeleton for seaweed. 3 5/8'w x 4.75" tall
---
Doug Schneiter
Basket illusion cherry bowl. 5" x 3" tall. Pattern is spirals done on 2,088 small rectangles. India ink colors, finished with spray lacquer.
---
Ric Taylor
Maple, 3.5" x 5.5"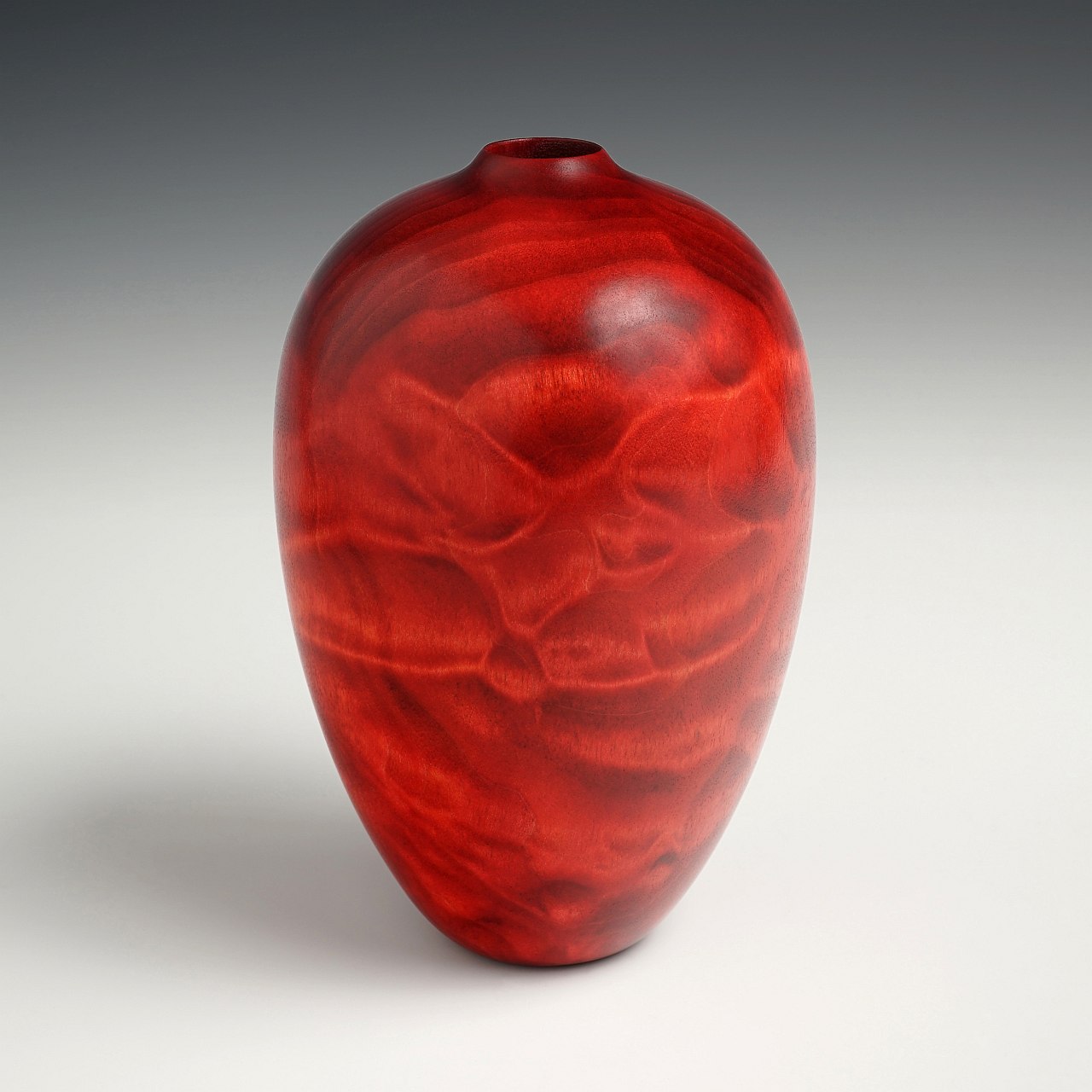 ---
Jimmy Tolly
"Escarpment"  Black Cherry 17-1/2 inches diameter by 1 inch tall
---
Marcia & Johnny Tolly
"Fairy Thoughts" - Maple platter turned by  Johnny Tolly Embellishments by Marcia Tolly of Pyrography and Acrylic paints.  Finished with Deft spray. 12.5" x 1"
---
Cory White
"Revival" Bradford Pear Flower turned, carved and colored. 7"x 4"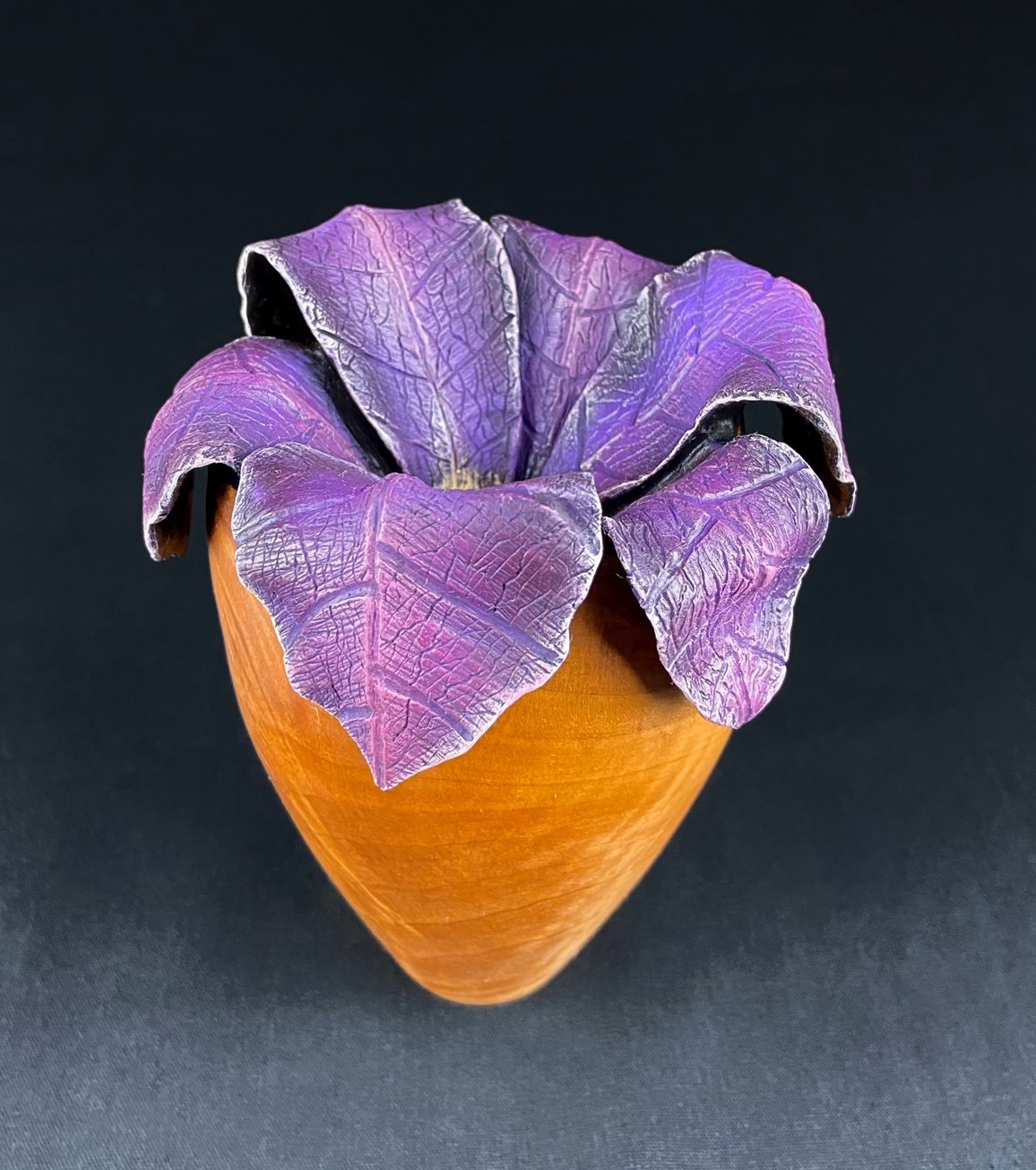 ---
If you would like to view some of SWAT's previous raffle winners, click the link below.