SWAT Regional Demonstrators for 2022
 Kailee Bosch

Kelvin Burton

Rick Cannon

James Carter

Buddy Compton

Delbert Dowdy

Ron Engel-Wilson

Dennis Ford
Anthony Harris

Charley Phillips

Tod Raines
Jason Rose
Gary Sanders
Chad Shimmel
Greg Stehle

Robert Wilson
Steve Worcester

Larry Zarra

Kailee Bosch
is from Fort Collins, Colorado. She has a BFA in Sculpture and Pottery from Colorado
State University. Her practice stems from a background in woodturning, growing up in her father's
shop making small objects on the lathe. She is known for her paper turnings and and is currently
interested in focusing on blending wood and bronze, making both functional objects and speculative
designs.
Demo Topic:  Intro to Turning Paper: Are you interested in turning paper and don't know where to start? This demo goes into depth on the paper turning process, from selecting material, to laminating paper and finishing the piece. This presentation includes both slides and a small paper turning project.
website: https://kaileebosch.com/

---
Kelvin Burton
I grew up in Napier, New Zealand after moving from KY at 4 years old. My first exposure to turning was in my early teens when I discovered two woodturners working next door to my Dad's Home Building Joinery & Framing workshop. They let me try my hand at a few bowls when I was supposed to be clearing sawdust and offcuts from Dad's workshop.
My second round came about 10 years later when my wife and I were building our first house and wanted some finials for curtain rods we had made from 1-1/2" dowel. Since buying them was outside of our budget I fabricated a very basic spindle lathe with 1" square tube and various parts I either made or found.
Go forward another 35 years to 2009 when we were visiting family and traveling around New Zealand and I stumbled across a woodturner at a craft mall who, when I expressed interest in what he was doing, replied "don't leave it too long". I took his message to heart and on my return to Texas discovered East Texas Woodturners, attended a club meeting as a guest and a few weeks later bought a lathe that a member had for sale.  As they say, "the rest is history".
I like to attempt pieces that challenge me but also make a lot of bowls as gifts. I've met many turners during our travels to see family in New Zealand and Australia and carried many pounds of wood in my case! I turn on a Powermatic 3520B (my 3rd lathe). I avoided pens and bottle stoppers for years but eventually relented as they make nice gifts.
If I have anything that could be considered a signature style it would be square winged bowls as I have made several variations using a variety of woods. My favorite bowl style involves rolled over rims, doughnut style, that are fully undercut.
Demo Topic: Turning a Manta Ray Winged Vessel
The demo will start with a short slide presentation showing examples of the wide variety of vessels that can be created within this category of vessel with reference to the NZ artist, Terry Scott who made this style popular.  Following the presentation, the demo will show the wood selection and preparation steps necessary to get a successful finished item.  The next stage will be to work through the steps of mounting and turning the bowl and wings, following by the removal of the unwanted wings and the blending in of the edges.  The hollowing of the bowl portion is next and the carving of the feet is the final step.
---
Rick Cannon

I have worked with wood most of my life. When I was young if something wooden in our home broke, we repaired it, mostly out of necessity. But, I remember using the tools and the process.
I found out, in those days, that wood working was taught formally in the schools. Cool! I took every advantage of the opportunity.
I found that knowing how to use the tools and repair things was very useful. I also used the shop and tools to balance my "real job" life. After a long shift in the refinery, it helped me relax.
I gained formal training on the lathe through our local club and Arrowmont. This craft/art school in Gatlinburg Tn. would bring world class wood artists in and we could learn from them.
I've turned most anything on the lathe, from pens to segmented urns. I've "evolved" into a sculptor, of sorts, with the process starting at the lathe. When the work, mostly wood, is removed from the lathe I begin the process of carving and coloring it. I use most any tool that will do the job. I have found that sometimes the goal is simply to leave only enough material to complete the thought of the piece. I still find a special satisfaction in working with the tools and material.
I enjoy the challenge of taking a thought and then creating something resembling that thought that you can hold in your hand. This puts a smile on my face. And after all, smiling is good
Demo topic: Zenbellishing
My goal with this demo is to touch on my process of taking a simple project and embellishing it to accept the color. Depth is created by making valleys and points. Color is added to show this depth.
I don't make the wood look better. I just add my touch to it.

---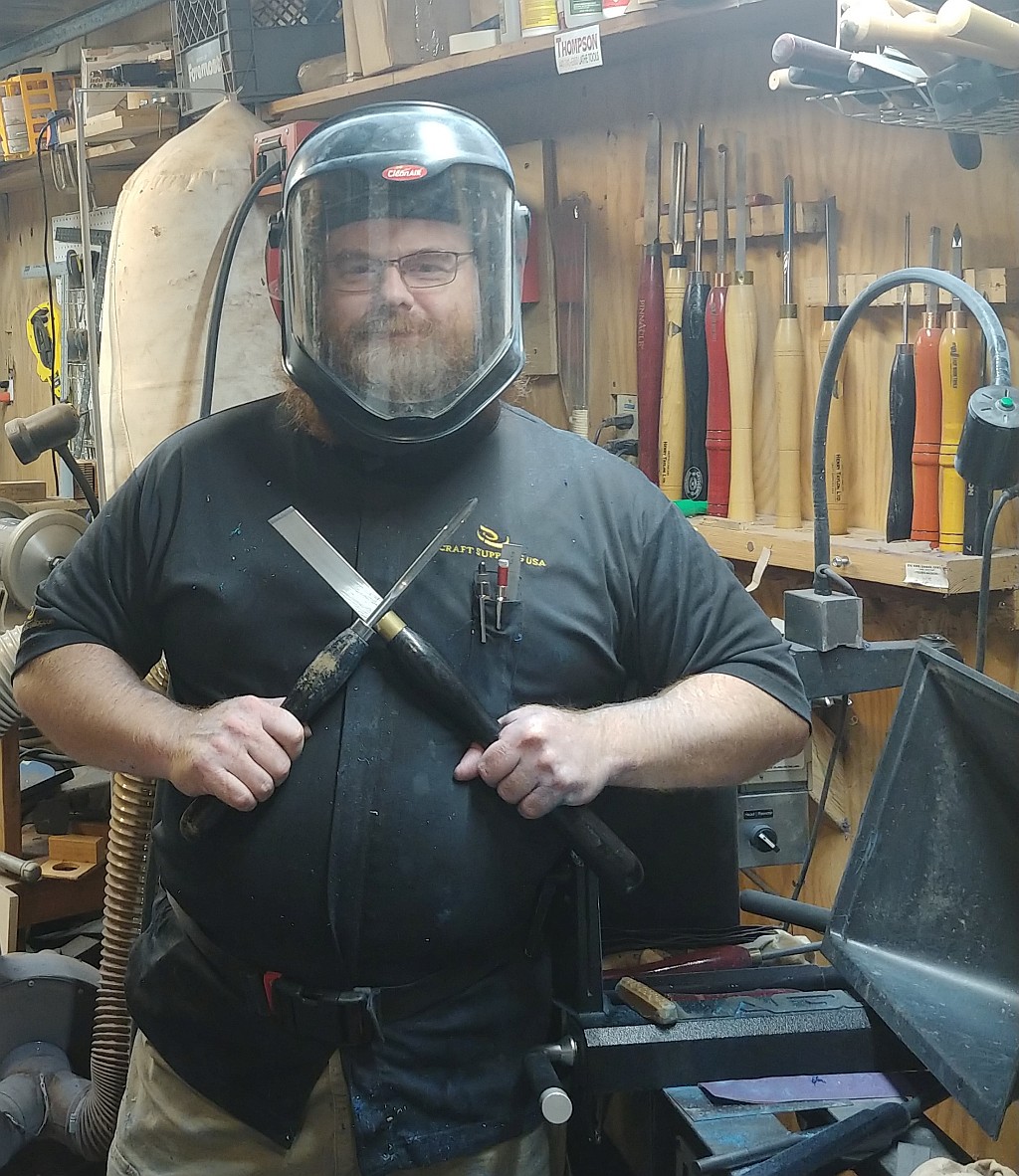 James Carter

James grew up watching and helping his grandfather in his power carving and lapidary craft business. He took up power carving in 1991 and enjoyed the creative outlet. James did power carving mostly for gift s and commissions until the drills died in 2004. In June 2006… James; received a lathe from wife for his birthday. Fast forward through seven years of You-Tube tutorials, trial, error, and a whole lot of tenacity; when one winter day he visits his first Embroidery Seminar.  It was there, he realized his calling. Stitch in Turn was born of the idea that quality, hand-made embroidery tools should be affordable and accessible. Since that fateful day in 2013, Woodturning has become James's only occupation. His passion for the art and skill of woodturning is evident in every piece he creates; his work has been showcased in numerous publications from around the world, and he's actively working to help foster the next generation of craftsmen by building a woodturning school in Floresville, Texas.
Demo topic:  Hollowing First, Inside-out Christmas Ornament
Ever seen an inside-out turned ornament and wondered how it is done. How is it hollowed? How is it held? How is it finished? James Carter, a production turner, will show you how it is done from wood selection to final chucking.
website: https://www.stitchinturn.com/

---
Buddy Compton
I spent 33 years as a teacher, coach, principal and superintendent in the public schools of Texas. Upon retirement in 2002, I was looking for something to keep me busy. That is when I became enamored with the lathe and woodturning. As my interest grew, I joined AAW and became a fan and supporter of SWAT. I served on the Executive Committee of SWAT for 5 years and served as President in 2016.
My mentor in learning this skill has been an old friend, Larry Roberts, who is a master turner.
I work with all woods, but my preference is mesquite. My pieces vary in shape and design which are dictated by the wood type, size and defects such as cracks, knots and bark inclusions. My goal is to turn pieces of high quality that will fit well in any gallery.
None of my turnings are the same, as no two pieces of wood are the same. Designing an ideal piece from a raw piece of wood is the continuing challenge that calls me to my shop each day.
My work is available at Wood's Boots in Colorado City, Texas, and on my website, www.woodturningsbybuddy.com.
---
Delbert Dowdy

Taught Physics at Texarkana College for 44 years. I love to teach woodturning.
Have been turning for about 30 years. mostly segmented work.  I Love the ability to combine different colors, shapes, and grain patterns into vessels that can be made any size you want. My desire is to make turning easier and quicker so that it is more fun.
My work has appeared in three galleries. I have sold items at numerous craft fairs. Demonstrated at home club often. Demonstrated at 5 different regional clubs. President of SWAT in 2011.

---
Ron Engel - Wilson
I have been working with wood most of my life. I started out making my own wooden toys before I started to school. I can not remember a time that I did not have a pocketknife in my possession. I turned my first pieces on my boss's lathe when I was in high school, they were a set of tool handles for a set of carving tools I had made from discarded hay rake tines, I still have them and still use them some 60 years later. I bought my first lathe some 25 years ago and as they say the rest is history. I really did not understand the finer aspects of woodturning until I saw a demonstration by Richard Raffin in Phoenix, AZ in the late 80's. He was the most amazing wood turner; I have strived to accomplish some of things he has done on the wood lathe. I keep trying new things, but I keep coming back to the fact that I enjoy turning utilitarian wooden objects. I like simple shapes, with flowing lines and balance. The feel of a piece is important to me, if it does not feel good it probably will not look good. I have turned over 1800 signature pieces and hundreds of non-signed pieces.
I am involved in the community and have been a Forest Heritage Center Museum Board member for 7 years and a member of the Southeast Oklahoma Woodturners since its creation. I have done many woodturning demonstrations for various clubs and events.
Demo Topic:  Evolution by Revolution
The demonstration will show how to turn several useful objects starting with a similar blank. Several tips on how to save time, improve one's turning skills will be presented and discussed. Special tools and how to make and use them will presented. Beginning turners as well as experienced turns will find the information useful.

---
Dennis Ford
I did a little bit of wood turning in high school shop.  Built my first lathe a few years after graduating from college and have been turning and making tools ever since then (I also have several factory-made tools). I am a member of East Texas Woodturners.  During SWAT, I am most likely to be found in the Art Gallery.
My woodturning varies across an array of styles from production spindle turning to art pieces.  Many of my hollow forms are based on either Southwestern pots or Greek vases.  I don't limit myself to those but seem to come back to them.  The natural beauty of wood and the shape are my primary focus although I use surface enhancement on some pieces.  I like to experiment with shapes and techniques and believe "willing to fail" is a good thing.
Demo topic:  Form and Proportion
The demo will include a slide-show discussion and some turning showing the process of going from a rounded blank to rough shape then to a "continuous curve".
website: http://denniswoodart.com/

---
Anthony Harris
Anthony Harris started turning in 1969 and is self-taught.  He started making furniture and turning in commercial shops in the late seventies.  He went free-lance in the early nineties and has turned, taught, and demonstrated professionally since.
Born in Kansas City, he lived in Colorado for seven years, but never learned to ski, and is now safely back in Kansas on flat ground.  He has traveled extensively in the Far East and lived in Japan for four years.
Repetition is good for learning and earning money, but Anthony revels in turning untried objects or materials.  Except for with tobacco pipes, where it is de rigueur, he doesn't carve, embellish, paint, stain or glue if it can be avoided.
Hand-chasing threads caught his attention some twenty years ago after watching Bill Jones and Alan Batty demonstrate in symposia,.  Anthony now says that you can chase a thread in almost anything from sweet potatoes to soft metals and stone on a wood lathe.  Balsa wood won't take a thread no matter how hard you try, but you can chase a thread across a void in the material if you are careful.  Complex objects that can be taken apart and reconfigured are good exercises in imagination and don't have to be dusted as much as a lot of turnings.
Anthony doesn't have an artist statement, but does have a woodturning statement.  Turn something new.  Keep turning it until it works.  Then turn it some more until it looks good.  Anthony doesn't make a lot of money.  Anthony makes a lot of boxes, loves to turn in multiple axis and eccentrically.  He turns a lot of reproduction and architectural work.
Some of his turnings have been displayed in various museums including the Nelson-Atkins Museum of Art, the National Museum of Toys and Miniatures, and The National Craft Gallery in Ireland.
---
Charley Phillips
How I became a wood turning artist
I start taking decorative painting classes in the 80's before long I was asked to teach a class in decorative painting what luck now I could buy more art supplies.  In the 90's I decided to take a wood carving class and after a while I also started teaching Woodcarvers as well.  In the late 90's I started to specialize in floral relief and designing my own patterns/and lids for glass jars and small wooded baskets with carved lids.  About 4 years ago I decided I would like to carve a large peace of butternut into a basket using palm and mallet carving tools this method wasn't working out my basket had the shape of a jelly bean not at all what I was looking for!  My husband Suggested that I should turn He really put his foot in it then because now we had to go buy a wood Lathe and all the turning tools $$$.
At this point I have not used wood lathe before! that was in the first part of July.  By First of August I had a wood lathe and a bunch of turning tools and started taking turning classes to learn how to use the tools. At the end of August I joined 3 turning clubs in the area, went to SWAT and bought a Hollowing system Now I can make all kinds of baskets!
Demo topic: CARVING RELIEF BASKET WEAVE
For this demonstration I will use a 3 1/2 x 3 1/2 basswood turning. When using a hollowed turning the walls of the turning need to be about half an inch thickness so you don't go through the wood when carving the basket weave.  An inexpensive jig for holding your turning so you both hands on your tool so you are less likely to cut yourself . And go through the step and techniques used to relief carve a basic basket weave on a turning. And the carving tools I used to carve this project.
WILD ROSE LID FOR THE BASKET
For this Demonstration I will use a 3 x 1 1/2 basswood turning .The lid will have a carved wild rose with a few leaves around the edge. Show how to draw the wild rose and the leaves onto the turned lid . Go over the jig use to hold the lid.  What tools are use and the cuts used to outline and create movement in the leaves and petal. Then I will show you how to undercut to create depth and shadows on the petals and leaves.

---
Tod Raines
I started woodworking in the early 1990's making furniture and built-in cabinets for our home. I bought my first lathe in 2002 and was self-taught for the first couple of years. I read a lot of books including many by well-known turners from around the world. Online videos were also a big help – although I caution people today that some of these videos may show unsafe ways of turning. I had my share of failures but I find that the 'process is the journey' of discovery and new ideas, techniques and skills are born from these failures. I got involved with the Dallas Area Woodturners club (an American Association of Woodturners affiliate) which was a big help. Through the club and its many members, I learned and grew a lot as a turner. In 2016, I became the treasurer of our club and will likely move on to other positions within the club. I attended national and regional woodturning symposiums that widened my turning knowledge and well as my community. Woodturners are friendly and helpful people and are all willing to share and collaborate which makes it a close community. In April of 2017,
I started Woodturning Tool Store, an eCommerce business selling woodturning tools.
Over the years I have attended turning classes taught by Al Stirt, Don Derry, and Jimmy Clewes and
others. These classes and training really helped with my tool and turning skills but just as important I
acquired knowledge about form, function and how the wood grain and texture guides the turning
decisions.
I enjoy the process of turning and I use a mix of planning and serendipity as the creative process
evolves. Since woodturning is a subtractive art form there needs to be some planning involved along
with knowledge of the natural medium and its tendencies. It is the unknown and spontaneous nature
of working wood that intrigues me but also the process of how to get to the final piece. I enjoy showing others this craft and enabling their wonder in what is hidden within the wood.
Website:  https://ntrwoodturning.com/

---
Jason Rose
Jason Rose, from Ohio, has been turning for 14 years and casting for eight. Jason teaches classes at his local Woodcraft store in Parkersburg, WV, and travels to Columbus, OH, to teach and lead turning, casting, and scrollwork demonstrations. He has also taught classes at The Makerspace and other various places in his local area. Jason is also the Mid-Ohio Valley Pen Turners Gathering organizer in Vienna, WV. Jason is best known for his historic embed blanks covering historical military events, sports, movie, and music memorabilia.
Demo topic: Clear Lable Casting with Alumalite 
In this demonstration, you will learn the ins and outs of clear label casting. We will go over some of the different techniques and materials used to make label cast blanks. You will get to watch a blank being cast from start to finish. When the demonstration is over, you will have the knowledge necessary to make a label cast blank from start to finish.
---
Gary Sanders

I am a retired firefighter from Greenville Tx. and began turning professionally in 1993.
I have had work in several juried turning exhibitions and have work in museums and
private collections I have demonstrated around the United States and Australia and
have taught at craft schools and local turning organizations.My work has been in several
publications and I have written an article for American Association of Woodturners.
Over the years I have changed my style of work and am currently working with
plywood and veneers.

---
Chad Schimmel

Chad has been on the lathe for well over 20 years, first learning to turn in junior high school. In the last 10 years he has specialized in pen turning, resin work, and segmenting, leaving his corporate job in 2013 to sell his art full time, and in 2016 opening Turners Warehouse, a turning supply store in Gilbert, AZ.
Chad has been featured in Pen World magazine for his watch part pens, has had several local print and TV spots, sells his pens in a local artist collective, and for multiple years has participated in the largest art festival in the western united states.
Chad loves to teach about pen making and resin casting and loves to talk shop when he has the time, helping both new and experienced turners while continuing to grow his own skills. He has presented internationally for Record Power teaching about segmenting, and has done lots of local demos and classes.
Chad also has a Youtube channel with over 27K subscribers where he posts instructional and maker videos and is excited to be presenting at SWAT in 2022.

---
Greg Stehle

In 2021 I retired from a career as an Engineer and Lean Six Sigma Master Black Belt in the Aerospace, Automotive and Medical industries. I have been doing some form of woodworking since starting in my late teens in my parent's basement. Today I am blessed to have a good sized, well equipped shop thanks to the support of my wife Kathy.
Kathy actually got me started in woodturning in a serendipitous way. She had gone to Woodcraft to sign up for a scroll saw class and saw a flyer for WNT that said members received a 10% discount there. We were spending enough at Woodcraft to have a net benefit from the membership so she sent in the membership form. In the meantime, she signed up for a bowl turning class at Woodcraft, and shortly after we bought our first lathe, a Jet 16-42. Kathy started receiving the club newsletter, and come December 2014 we decided to attend the club Christmas party.
We were amazed at the pieces that were auctioned at the Christmas party, and we really enjoyed the fellowship, so we decided to start attending the meetings, with me as the spouse in tow. In July 2015 I joined the club, and haven't looked back. Since that time, I have taken in-person turning instruction at the Homestead in Elm Mott, from John Horn, Jimmy Clewes, Stuart Batty and Nick Cook. I have also attended numerous demos at SWAT, the annual AAW symposium, and online.
The demos and in-person instruction taught me something about technique, but viewing the galleries at SWAT and the AAW, and art shows and art galleries taught me about form and alternative materials. I saw my first segmented piece at SWAT and was so fascinated that I launched into creating segmented pieces with the help of Malcolm Tibbetts's book and videos. I happened to see a turned OSB piece at the Cottonwood Arts festival a few years ago, and although it was interesting, I thought I could do better. I bought a 4'x8' sheet of OSB from Lowes for around $20 and started making bowls and hollow forms. Perhaps because of the Engineer in me I liked the idea of planning and building a piece up, as opposed to searching for the almighty big, monolithic, perfect piece of beautifully figured wood that would make my work look great!
Since starting segmenting and OSB projects, I have added urethane casting, and alabaster turning to my project materials. I still enjoy simple bowl turning, and recently have been working on expanding my knowledge and abilities with finishes.
I believe that if you really love doing something it is not a hobby, so when people ask me if I have any hobbies, I prefer to say I really love woodturning!
Demo topic: OSB - The other white wood
I will demonstrate creating and finishing a hollow form made from OSB, with segmented rings on the top and bottom. I will videotape the entire process from start to finish, including finishing. This must be done via video, as the actual process generates too much airborne dust to be done live. The key to getting a good product is in the finishing process, which will be revealed in the demo.
---
Steve Worcester

I picked up woodturning in 1994 after moving from California to Texas and taking some basic instructions at a local store.  After going obsessively into woodturning, I learned techniques from modern day masters and started to sell my work at art shows. I was looking to expand my horizons and saw some pictures of square pieces done by Australian wood turner Vic Wood. Not knowing how he did it, I started experimenting in turning square.

About that time, I helped found the Dallas Area Woodturners, a local chapter of the American Association of Woodturners (AAW), and have since served as camera man, Vice President, President and newsletter editor and currently as a the Vice-President again.
Early on my specialty was square turning. My initial experimentation in square turning was published in the December 98 issue of the AAW journal, a quarterly publication of the American Association of Woodturners. At the encouragement of the publisher, I started demonstrating my techniques. Like all things that are practiced and experimented with, it too has evolved into the current methods described and illustrated in numerous magazine articles. For the last 10 or so years, I experimented with fused glass as additions to my turned art.

Over the last 2 decades I have participated in many of the local juried fine art shows, mostly in the North Texas area. In the Dallas Artfest I have been honored with "Best of Show" and "Best of Category" several times, and a featured artist at the Huffhines Trails Artshow, in Richardson,TX.

Although I dabble in wood from around the globe, much of my work is done in wood native to the south. I also am very active in encouraging the use of native trees and starting up a method of notifying local turners when there are trees available for their use and making sure that they are put to use in woodworking vs. going to the local landfills. These trees have been removed because of development, disease or storms, never just for woodworking. In fact, I try to encourage people to keep the trees standing if at all possible.

 I have been fortunate enough to have been chosen to demonstrate my techniques at Symposiums and venues all over the country. I like to teach and educate people about woodturning and finding their own "voice". We watch, listen and learn. We practice and develop our own "vocabulary". We have to learn to listen to ourselves and take that voice and express ourselves so it is uniquely our work. Woodturning is very much about experimentation and self expression.

For the last 5 years, I have been concentrating on a body of work I call the Fusion Series. It is about the fusion of materials hard (slumped glass) and soft (wood). The hollow forms are meticulously masked and airbrushed to create patterns (polka dots) that create little windows into the soul of the wood. They are then adorned with a kiln formed slumped glass top in the shape of a diamond. The diamond disrupts the pattern of the round wood form, breaking the "rules". It is then shot with automotive clear coat to further bring the look of the glass and wood together.

I live in Plano, Texas, with my very understanding wife, the puppies and cat.  All of them are very supportive of my wood art obsession. My future goal is to earn a living as a full time studio artist, but in the meantime, I still have to put food on the table but that does afford me great latitude in the experimentation, I have no one to impress but myself.
website:  https://www.turningwood.com/
---
Larry Zarra
Larry has been an avid woodturner since turning his first bowl in 1995.  What started as a hobby quickly morphed into an artistic passion, pursuing perfection in design and excellence in the completed object.  Over the past twenty-five years he has participated in a variety of juried art shows and has been selected numerous times as a regional demonstrator at the SWAT symposium.  His work is currently represented at DaVinci Artists Gallery and other local venues.  Larry is a member of the Houston based Gulf Coast Woodturners Association and The American Association of Woodturners.  He has also published articles in the American Woodturner Journal.

While he is primarily self-taught, Larry has also benefited from participation in hands-on workshops with several world-class woodturners.  During his woodturning career, he has turned over 1,500 bowls and vessels, and more than 10,000 spin tops.  Larry is a recently retired earth scientist who worked in petroleum exploration and applied research.